After seeing these testresults with my own eyes, I nearly started banging my head against the wall…
First off: Lite-On LTR-52246S, F/W 6S0F, 702Mb data (79m 59s 15f = wery close to full disc). Nero 6.0.0.19 and discs is written at 52X.
All discs have the same ATIP:
ATIP: 97m 34s 23f
Disc Manufacturer: Mitsubishi Chemicals Corp.
Reflective layer: Dye (Long strategy; e.g. Cyanine, Azo etc.)
Media type: CD-Recordable
Recording Speeds: min. unknown - max. unknown
nominal Capacity: 702.83MB (79m 59s 73f / LBA: 359848)
First off is Verbatim datalifeplus made in MEXICO.
Disc 1: (have identical serial numbering system as those which states made in china).
Disc 2: Bought in another store, serial number is a bit smaller but else it's identical to the other made in Mexico disc.
Second off is Verbatim datalifeplus made in INDIA. Out from the serial numbering systems it seems like those may actually be prodused by Moser Baer in India.
Disc 1: From a 50 spindle with "white printable top" type discs.
Disc 2: From a 10 pack with jewel case, bought about 6 months ago.
Third off is Verbatim datalife (not plus) made in CHINA. Serial numbering system is identical to the first made in Mexico disc.
Disc 1: From spindle 1.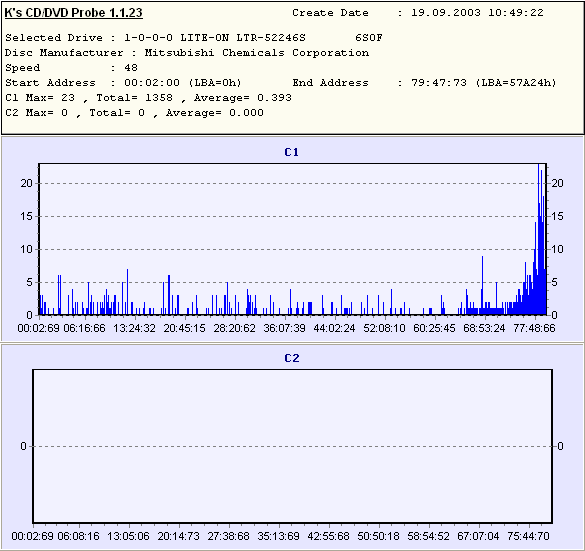 Disc 2: From spindle 2.
Disc 3: From spindle 3.
The only thing I could say is that the China and MEXICO disc starts with lower average C1 (about 0.2) but ends up bad at the end while the india discs starts with higher average C1 (about 0.9) and gets bader at the end as well…
Any thoughts/comments/critics is welcomed…