Hello again, pals
After a troublesome event last night (referring to: TSST TS-L633A Cannot burn CMC MAG M01) , finally everything is settle down.
Alas, I could manage to get a new cake box of "proved" Mitsubishi MC004 by spending a little more from my pocket. And following to an advice from Michael, I bought a set of BenQ DW2000 with an aluminium enclosure for about USD 51.
Presenting below are the Quality Scan results from my OEM drive with a couple of media I have on hand now, which are
-Mitsubishi MCC 004
-RitekG05 (a memorial disc from today long-run-like-never-ending discussion b/w me and the Chinese shopkeeper)
-Verbatim UME02
-TDK 003
MCC 004, RITEKG05 are burnt by Asshampoo 8 at 8X, while Verbatime UME02 and TDK 003 are burnt by NTI Media Maker at 8X as well.
And for benchmarking, I have another MCC 004 burnt with my ext. DW2000 with Asshampoo 8. The test result is posted at bottom of my post.
TS-L633A:Mitsubishi MCC 004
I don't know what you think, but I like it. Despite those spikes of PO error, the total number of PO error and stable amount of PI error is impressive for me.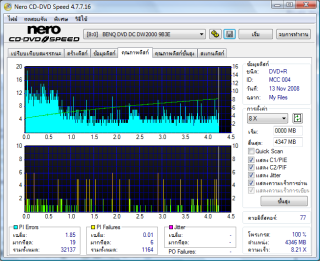 TS-L633A:Ritek RITEKG05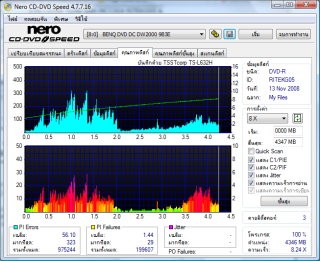 Thank God that I trusted in the data obtaining from this site. The shopkeeper tried to pursuade me to accept this…awsome media as the replacement of the Philips CMC MAG M01.
TS-L633A: Verbatim UME02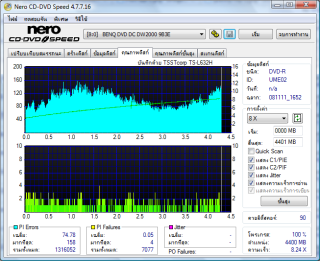 Not so bad for a media made in China. Excluding the amount of PI error, it is almost as good as the MCC 004 burnt with DW2000. Only one last question left in my mind, "would it last long?".
TS-L633A: TDK TDK-003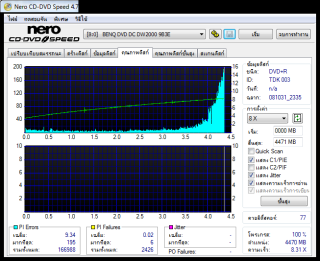 For the love of Christ! I has just been to the toilet for a few minutes… the moment I saw the test result, it was such a surprise to me. Except an unseenable spike on the left side of the graph, there is not any PO error!!!
However, I was pull back to the reality when I notice the amount of PI error and the endding of the disc. But still such a shock for me…
BenQ DW2000: Mitsubishi MCC 004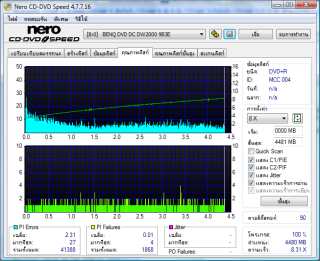 Barely on par, is the very word I can give for the test. Though, the firmware is not updated, and solidburn is not enabled. But I expect to see a less thick green grasses from BenQ performance.
My Conclusion: My impression about my OEM drive is changed completely after this test. I could not expect any more than this from a slim burner which is, especially, comes from a value brand like ACER. I hope that ACER would launch a new firmware, sooner or later. I can't wait to see how would it be after being upgraded.