[qanda]This thread is about the Microsoft Zune digital player. Click here to see full specs[/qanda]The Zune
Since there wasn't any post about the MS Zune as of yet, I thought to start one so we can discuss our experiences with this beauty of a media player;)
The Zune is a portable Media PLayer that comes with some nice features!
It has a 30GB harddisk, Wi-Fi for wireless file-sharing, build in FM Tuner.
Moreover, it plays audio as well as video files. It's being manufactured by Toshiba, but MS is the seller. The main competiting device is of course Apple's iPod.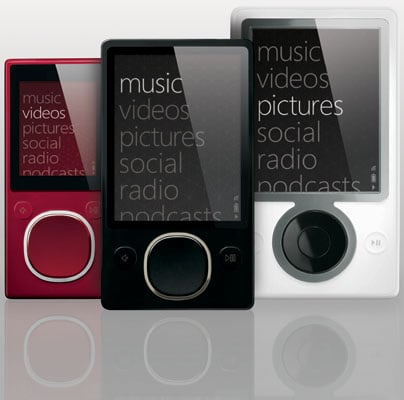 Specifications
* 30GB harddisk: 7,500 songs, 25,000 photos or 100 hr video.
* Wireless Zune-to-Zune sharing
* FM-tuner:
* 3,0" LCD scherm: both usable in portrait and landscape
* Supported codecs: WMA, MP3, AAC, JPEG & WMV
* Dimensions: 4.4" x 2.4" x 0.6" or 11,2 cm x 6,1 cm x 1,4 cm
Software
The software from the Zune is, from my point of view, much better than the difficult-to-understand iTunes. You can find the software here
Playing videos and converting them to WMV format
The software that comes with the Zune is able to convert MPEG-4 & H.264 to WMV. However, if you want to convert DIVX and XVID in order to be able to play them on your Zune, I found some programmes that are cabable of doing this, take a look at them below.
[ul]
[li]SC Free Video Converter[/li][li]Xilisoft Zune Video Converter[/li][li]ImTOO Zune Video Converter[/li][/ul]
Some Reviews
[ul]
[li]Zune - Arstechnica[/li][li]Zune - Engadget[/li][li]Zune Marketplace - Cnet[/li][/ul]
If you have any suggestions to add, please feel free