I've browsed through this forum and I see that some people don't know how they should burn a proper DVD-Video disc in Nero Burning ROM. So to help you I've made this small tutorial on how I set-up Nero when I want to burn ripped VOB files to an empty DVDR disc. So far, with these settings, my back-ups work in every player I tried, including picky PlayStation 2 and Xbox consoles. Please note that I gathered this information from several other sites since I also had to learn how to burn a good DVDR disc. So I don't take credit for any of this, I'm just sharing what I know.
1. Getting the settings profile:
Rather than going through all the settings in Nero Burning ROM I've set-up a profile which contains all the correct settings. You can download the profiles below. Please note that Nero v6.0.0.19 (and newer versions) requires a different profile to make perfect DVD-Video discs:
[ul][li]Profile for Nero 5.5 and 6
[/li][li]Profile for Nero 6.0.0.19 and up![/ul]Please also note that both profiles work with both DVD-R(W) and DVD+R(W) media (depending on what your burner supports and which media your player can play).
[/li]
When Nero v6.0.0.19 or later gives you the warning: "You have added DVD-Video content to a compilation that will not result in a DVD-Video compliant disc" you can ignore it. The Profile should work. If it doesn't try using the default DVD-Video Profile.
2. Starting Nero Burning ROM:
When you've downloaded the profile you will have a file called "BLANK DVD NERO.nrc" on your hard disk. If you have installed Nero you should be able to just open this file by double clicking on it. Nero should automatically start. If not start Nero manually and if needed close the Wizard. Then go to "File, Open" and select the "BLANK DVD NERO.nrc" file. When the file has been loaded you will see the following confirmation message: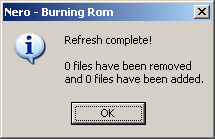 3. Setting up the compilation:
After pressing OK you will see the normal compilation window in Nero. You should see two screens, the Compilation window (entitled BLANK DVD NERO.nrc) and the File Browser window. If the File Browser window is not there go to "View, New File Browser." Your screen should look something like this. Notice that in my case the Compilation window is on the left and the File Browser window is on the right: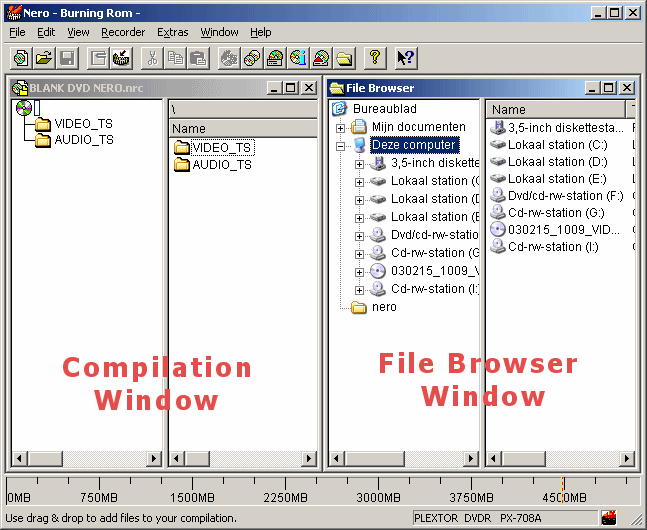 Most of you will know how to set-up the compilation but I'll mention it anyway. The Compilation window is where the files should be placed that you want to burn to the DVDR disc. The File Browser window displays the files on your computer. For this tutorial I presume that you have already prepared the DVD you want to copy and thus all we have to do now is drag and drop the prepared VOB files to our compilation window. First, in the Compilation window, double click on the "VIDEO_TS" folder. This is where the movie files should go, the "AUDIO_TS" folder is left empty but it needs to be on the DVD because of playability reasons. Then use the File Browser window to select the directory where your DVD files are stored and then drag them to the VIDEO_TS folder in the compilation window: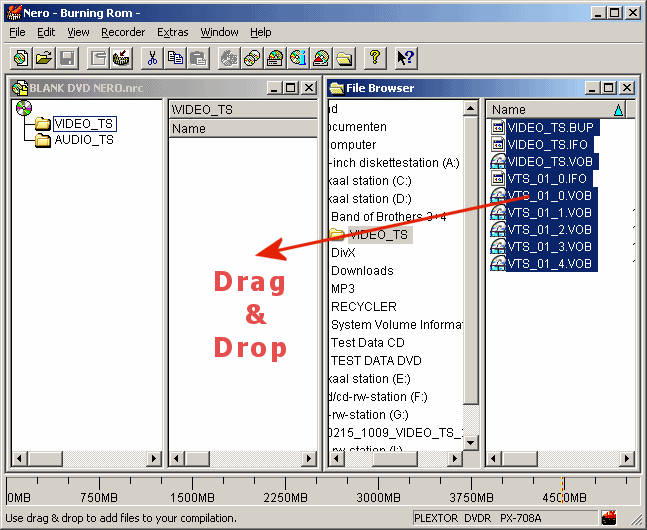 4. Renaming the compilation:
Your DVD disc should of course have a name. Click on the title bar of the Compilation window so that it's selected (the title bar is the bar that has the "BLANK DVD NERO.nrc" text on it, when it's selected it will turn blue). Now press the F2 button on your keyboard so you can enter a name. For playability reasons the title of the DVD should be entered in CAPS and without spaces, like so:

5. Burning the compilation:
Now all we have to do is burn the compilation. There is no need to check any settings since there all set via the profile. Just press the burn icon (

) in the Nero taskbar or choose "File, Write CD" in the Nero taskbar so that you get the burn window: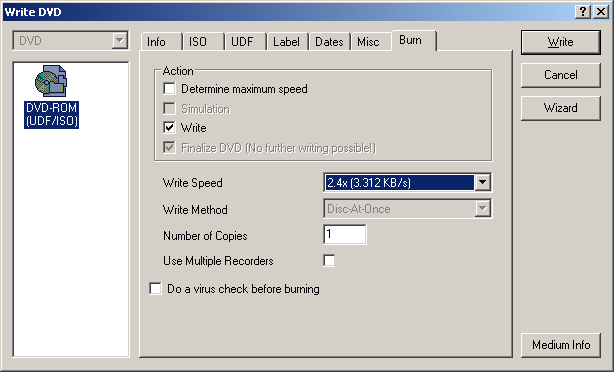 You can choose your preferred write speed here depending on which speeds your writer supports and which speeds your DVD media supports. All you have to do now is press the "Write" button and depending on which recording speed you selected your DVD will be done in around 15 to 25 minutes.
Originally posted by giovanni42104
sorry game freak …that is good and love the tutorial but dont ya think nero express would be easier and less room for errors ?
Nero Express is burning for newbie's No seriously, Nero has loads more options and allows you to control everything while Nero Express was intended for people who really don't know how to burn (and there is nothing wrong with that, don't get me wrong here ;)). I think when people use my guide it should eliminate any possible problems with Nero. Just follow the steps and you can be sure you have a well burned DVDR disc.
notice in your macro for Nero, on the compilation settings, for the ISO button, you basically blank them out.
It's for playability reasons. I read somewhere that not all players can read DVDs that are burned with Joliet filenames. Most can but some older players couldn't. And because all players that can read Joliet will also read ISO level 1 discs it's safer to just use this mode. As I said at the beginning of the small tutorial I gathered the information myself too so I can't base this particular ISO setting on my own experience.
Originally posted by kclee
[B]i believe that nero doens't burn to whole capacity of 4.7gb of the dvd-r but only under 4.5gb, why's this and how can i set it to burn all of the dvd-r??

thx, kc [/B]
Nero does burn the complete DVDR. The differences between 4.5GB and 4.7GB (which is mentioned on the disc) is explained when you realize that DVDR manufacturers use 1.000kb as 1MB while it should be 1.024kb per MB (correct me if I'm wrong someone). The same applies to hard disks for example. So, you can never burn 4.7GB to a DVDR and only around 4.480MB.
Every time you want to burn a DVD compilation. When Nero is closed the settings are reset to default.
Comments or questions? Ask them here