Gosh, only $18, I think I'll get a bunch. :Z
It says :
RIDATA 8X DVD+R 8.5G Single Sided Write Once Media in jewel Case, Model DRD+85-RDJC, OEM
For use with Recordable Drives that support DVD+R Blank Media
Specifications:
Speed: 2.4X
Capacity: 8.5GB
DVD+R Double Layer
1 Jewel Case
This media can be burned 8X in a non DL drive ?
Or is it a mess in the description ?
Thanks for deciphering !
It says when you buy 50pk 8X Ridata discs, they will give you free!

Holy shit. It's a customer appreciation gift! Okay, I'm putting in an order now!
Hehe. Not a bad deal! I got a 50-pack of 8x-rated RiData +R discs for $40, and I got a free DL disc thrown in! Now how's that?
I wonder if it's RITEKD01 or RICOHJPND00…
I think this deserves a spot in the BB!
Nice find Kitto!
Hmmm too bad I don't need any additional RitekR03 discs.

As if I really need any more DVDRs.
@code65536, can't wait to see your 451@832 Ritek DVD+R DL results!
Neither can I!
Kinda hoping for RITEKD01 so I can see just how well this VSC3 works…
Now to plan out what exactly I want to burn on that thing…
You are welcome, wesociety~
unfortunately I don't need extre DVDRs too…
Just get the deal from Office Depot of Maxell DVD-R…
I'll order a few when I can get my paws on them for only US$8
How is one supposed to label that disc? It has a huge logo silkscreened all over it. Grr!
Got my disc today… here's media code read-out…
0000 : e1 0f 32 10 00 03 00 00  00 fc ff ff 00 22 d7 ff   ..2.........."..
0010 : 00 00 00 52 49 54 45 4b  00 00 00 44 30 31 01 40   ...RITEK...D01.@
0020 : 25 25 37 00 00 28 64 00  28 64 14 14 0a 0a 0a 0a   %%7..(d.(d......
0030 : 01 00 00 00 00 19 1b 0b  0b 0e 0f 01 00 00 00 00   ................

This is a RITEK-D01-01 disc. It is not supported in the VS08 firmware. Nor is it supported in the NEC firmware. Nor any other firmware that I know of. I've heard it mentioned in another forum that Ritek's a fairly new entry, and that many manufacturers are just starting to add this code to their support list. The next 832S firmware should have support for this code. But at the moment, there is no such support.
Hmm, that sucks. I wonder when the NEC drive is going to support it.
I also wonder if the RICOHJPN-D01 (or whatever it is) write strategy would work with the media.
Swapping the Ricoh strat is a fair bet to succeed. They almost certainly are the same media.
I doubt it. You know how Ricohs have a light purple color much like MCC, TY, and Prodisc? And Ritek have a much darker color because they use their oh-so-special Ritek dye? Well, this is a dark purple disc. The MKM discs are light purple. And I would guess that Ricoh will be light purple, too.
Results of this burn…
[THREAD]101326[/THREAD]
An excerpt from my post in the media tests forum…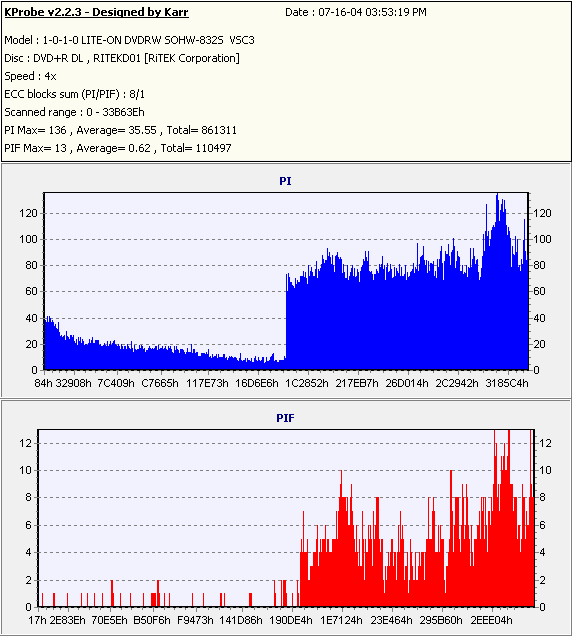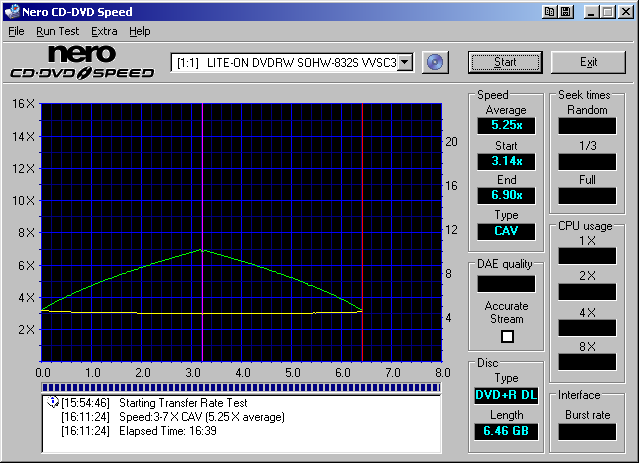 Disc passed data verification successfully. Both layers played back without any problems on the two standalones this disc was tested on.
code65536 what strat did you burn it as then?
A makeshift D01 strat. And no, don't ask for VSC3. The VSC* firmwares are what we name the firmwares used for internal testing.
LiteOn's new VS0A firmware properly supports these discs (the VSC3 that I used was a derivative of this firmware). Dunno about support for other drives, though…
Forgive my ignorance, but what's the story with these DL disks costing 15.00 or better, and it appers in short supply at this stage.
These most certainly can't be the same type disks that regular DVD movies use?
What is the difference between the two?