hey all, I´m new to this board and wanna say, this forum is very good, helped me much solving problems.
But now I got one, hope u can help me too.
First of all the problem that I have.
After I burned my DVD DL with 3500a, I got no Bitsetting on my DVD to Rom, only DVD+R DL, DVD-Rom is the default setting.
I use the new FW from Liggy the liggy 218. flashed with binflash.
( no errors after flashing and reboot )
I tryed to burn my DL with RecordNow Deluxe 7.1 and one with C**DVD.
Burning was ok, no error´s but DVDInfo say´s DVD+R DL instead of DVD-Rom, and my stand alone Player say´s "no disk" I think because of the booktype.
Here are some more additional infos:
ASPI: 4.60
WinXP SP1
Burner is on master IDE and got DMA 2.
in the past I burned some DL from verbatim and Record Now Del. with other FW. All DL had DVD-ROM booktype and no problems, playing in 3 stand alone player. Now I tryed the memorex DVD and the new FW, but I don´t know, if it could be the media or the fw.
Hope u can help me.
Here is a picture too, showing the mediacode and booktype.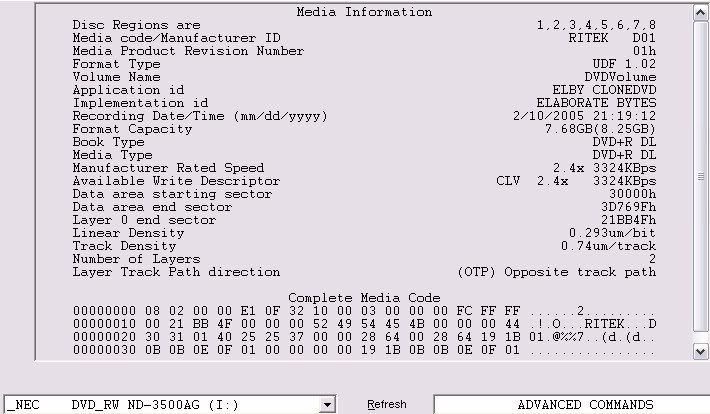 thank´s in advanced