I read this tip on the CDRLabs.com forum by a member called RaMaTz. By changing a value in your registry you can make Nero Burning Rom show you the actual write speed (instead of the speed you selected). I tested this with Windows XP and Nero verson 5.5.8.2 and it works great. Here is how to do it. Pics were made by me, credits go fully to RaMaTz:
Start Regedit via 'Start, Run, Regedit'. The Registry Editor will be started. Now go to 'HKEY_CURRENT_USER\Software\ahead\Nero - Burning Rom\Recorder':

The DWORD value in this screenshot has already been changed to 1, in your screen it will probably be 0
Search there for the DWORD 'ShowSingleRecorderSpeed' and right click on it and select 'Modify'. This screen will appear:
Now set the value 0 to 1 as already done in the screenshot above (Value data). Press ok. Now just burn with Nero. Below a screenshot of the actual write speed now shown in Nero. These are two screenshots of the same write process. As you can see the speed changes from 16x to 20x (which is the max for this recorder).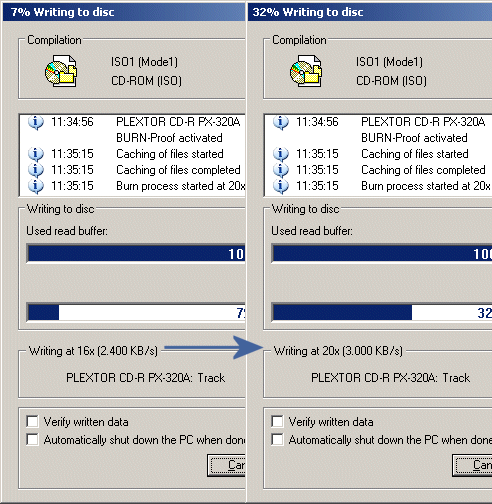 A very neat trick as I see it. Give it a try! Now you will be able to tell the actual write speed instead of having to guess from the write time
For Nero 6 follow these steps:
[ol][li]Start-> Run-> type Regedit
[/li][li]Go to "HKEY_CURRENT_USER\Software\ahead\Nero - Burning Rom\Recorder"
[/li][li]Go to Edit-> New -> DWORD Value
[/li][li]Rename "New Value #1" to "ShowSingleRecorderSpeed"
[/li][li]Click on it and select "Modify"
[/li][*]Now set the value 0 to 1[/ol]Thnx AnOrO