Welcome to the DVD- media testing forum!
What's this about?
We have an idea of creating a database of media tests that you can peruse and search, that is based on the media manufacturer and ADIP. This means that the structure of each thread and post must be consistant and accessable by the search function, so that users can find what they're looking for.
This will require a lot of moderating by myself and rdgrimes to ensure that it works as advertised. Please do not be offended if your post is edited, moved, or even deleted, it is done in the spirit of making this work really well.
Guidelines for posting media tests:
1) There will be threads for each media manufacturer, TY, RiTEK, CMC, etc they will also be split up in format and type (one for DVD+R, one for DVD+RW one for DVD-R one for DVD-RW for each manufacturer). Before posting, you must have your media's ADIP information, and post in the appropriate thread for that media maker. If there is no thread for that maker, create one! Posting by the media brand, (Fuji, Memorex, etc.), will not be permitted in the media test forums, but may be discussed in the main media forum. Post only one test per post please! Testing should preferrably be done in the same drive your media was burned in.
2) The subject of your post must include the media maker and the media maker's speed rating and the speed it was burned at.
3) The first line in the post must include the drive model used for burning, and firmware version. Also the size of the burn in Mb or Gb.
4) Next you should post the ADIP: Look below for a guide on this

5) Now you should include which brand the discs is sold under and which manufacturer the discs comes from (for searching purposes), follow this with any relevant information like whether the discs is unreadable in some players etc
6) Finally post an image of the error scan if possible. In order to keep the size of the image to a minumum, we strongly sufggest saving it in ".png" or ".gif" format. You must have have a web host that allows linking for image posting to function, attaching the image file to your post will also work. If you are not able to post and link an image, you can contact me or rdgrimes about keeping your image on our server. Posts that have broken image links will be deleted.
Note: Posts that have insufficient information may be deleted
---
---
---
---
How to scan DVD-discs in K-Probe?
First you should download K-Probe. See the main media forum for the Kprobe thread.
When starting up K-Probe you will first get this window:
The test we are looking for is under the Write Strategy tab as shown in this window:
We have marked the most interesting things here:
1: Select your Lite-On DVD-Drive from the Dropdown menu.
2: To make results that could best be compared to the standards for error amount on DVDR discs you should:
-Disable realtime chart (program uses less CPU power and thus gives more correct results)
-Set the reading speed to read at CLV, notice that only Lite-On DVD-Writers responds to the speed commands and thus we do not recommend using Lite-On DVD-ROM's or Lite-On combo drives.
This is the speeds with a Lite-On DVD-Writers when choosing different speeds in the program:
When the program is set to Max or 6X and higher: 6X CAV.
When the program is set to 4X or 5X: 4X CLV for all DVDR discs.
When the program is set to 3X: 2.4X for DVD+R/RW and 2X for DVD-R/RW
When the program is set to 2X: 1X for DVD+R/RW and 2X for DVD-R/RW
When the program is set to 1X: !X for all DVDR discs.
Also notice that speed setting do not work when scanning original pressed DVD discs!
Set the PI/PO Sum to 8 ECC, this is to make the result easier to compare to the ECMA 337/338 standard for DVD+R/RW and DVD-R/RW where the specifications states that there should not be more than 280 PI errors per 8 ECC blocks.
3: Here you will find:
A button to print the result.
A button to export the result to a file, remember to choose to save both charts when scanning a DVD disc. And this brings up the following save dialogue:
Type in a filename. We also recommend that you choose to export the file in the PNG file format as this will give a small file of 15-20k but still with good quality. This also makes it easy for you to attach the image when posting at our forum as the file size is below the limit on the forum.
Here you may change the colours of the graphs. Another useful option is if one of your scans contains a large spike you may adjust the Y-axis to improve the viewability of the result. We suggest that you do not adjust any other settings here.
We do also find the start and stop buttons to start or stop the scanning process.
That's it! But look below for how to formulate the post!
You should also include the media manufacturer information. Download DVD-Identifier from http://DVD.Identifier.cdfreaks.com
DVD Identifier: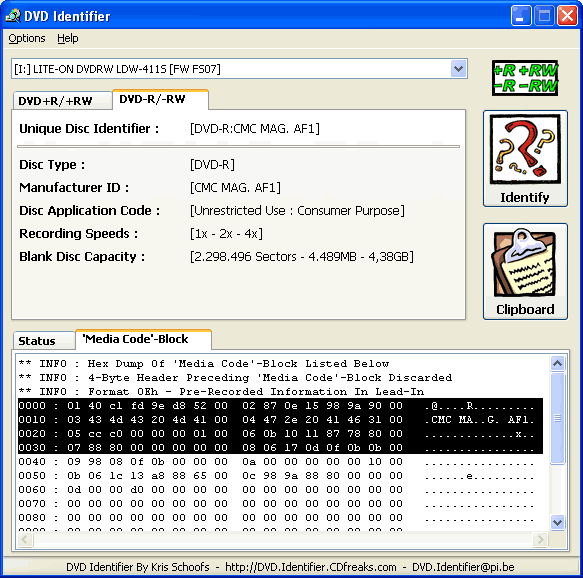 DVD identifier is very easy to use:
-Select the drive you want to use from the dropdown menu at the top (with the DVD media inserted, or insert it before continuing to the next point)
-Click the identify button.
-Click the clipboard button and paste the information into your post.
-Click the 'Media Code'-Block button
-Copy and paste the upper 4 lines of this code into your post (Those shown with black background).
You should also include in the post what PI/PO Sum setting you used and what speed you scanned at. (Yes, not everybody is following our guidelines L ). Feel free to add other comments that you think is important, such as readability of the disc etc.
Since you may not have a Lite-On DVD reader available for scanning the discs we accept that you include all the other information and write a report on how the media works for you (to be included: Do it write at certified speed? Do it/Do it not work in the tested DVD players (include brand and model).
Notice that DVD-media scans made by different drive types can't be compared!!! This means that scans made by a DVD-ROM can't be compared to scans made by a combo drive or DVD-Writer.
Next I will post an example of how these posts need to be formatted.