MediaCodeSpeedEdit support for NEC DVD-Writers
MediaCodeSpeedEdit allows you to get even more out of your NEC burner by applying changes to the official firmware. MediaCodeSpeedEdit also supports models of other manufacturers, see the main MCSE discussion thread for details.
Key features of the NEC support:
1/ Support for most NEC and Optiarc DVD writer drives
2/ Support for official .exe flasher, .bin firmware files and unofficial patched firmware files.
3/ Increasing the DVD write speed by lossless write strategy swapping.
4/ Replacing of Media Codes with manually entered or imported Media Codes for currently unsupported Media Codes.
5/ Text file export of Media Code and write speed tables.
Warning:

Using patched firmware might damage your drive and will void your warranty.

The use of MediaCodeSpeedEdit is at your own risk.
Supported firmwares:
NEC ND-1300A
NEC ND-2500A/2510A
NEC ND-2510A
NEC ND-3500A, ND-6500A
NEC ND-3520A, ND-3540A, ND-6650A
NEC ND-3550A, ND-3551A, ND-4550A, ND-4551A
NEC ND-4570A, ND-4571A
NEC ND-3650A, ND-4650A
NEC ND-6750A, ND-7550A, ND-7551A
Optiarc DVD±RW AD-5540A 102C
Optiarc DVD RW AD-5170A 1.11,1.13
Optiarc DVD RW AD-5170S 1.12
Optiarc DVD RW AD-5200A 1.01
OPTIARC DVD RW AD-5630A
Optiarc DVD RW AD-7170A 1.02,1.04
Optiarc DVD RW AD-7170S 1.02
Optiarc DVD RW AD-7173A 1-01,1-03
Optiarc DVD RW AD-7173S 1-02
Optiarc DVD RW 7200A/S, 7203A/S 1.01/1.05
Optiarc DVD RW 7201A 1.05
Optiarc DVD RW AD-7540A 1.01
Optiarc SONY DVD RW AW-G170A
Usage:
1/ Download the firmware you want to modify.
2/ Start MCSE.
3/ Load the firmware .exe or .bin file.
4/ To increase the write speed, double click the media code you want to change and select the write strategy you want to use instead. This is a bit of trial and error. Check the Changing NEC DVD±R write strategies (results thread) to see if your modification has been tried before.
5/ Save the firmware.
6/ Start the modified flasher or flash the .bin file.
7/ Reboot.
Known restrictions:
Do not be surprised when Liggy & Dee's optimised write strategies lead to better results than your own tries :).
MCSE exchanges complete write strategies, e.g. RICOHJPNR02@RICOHJPNR03 and does not support changing strategies of each single write speed part, so you can not exchange just the 12x part of a strategy.
Lossless strategy swapping is available on +R and -R media on 3520 and newer drives firmwares. Other swaps will disable the source MID.
Strategy swapping for RW and DL media is not recommended but available by renaming the media code name.
Changing (disabling) of write speeds is currently not implemented.
Screenshot: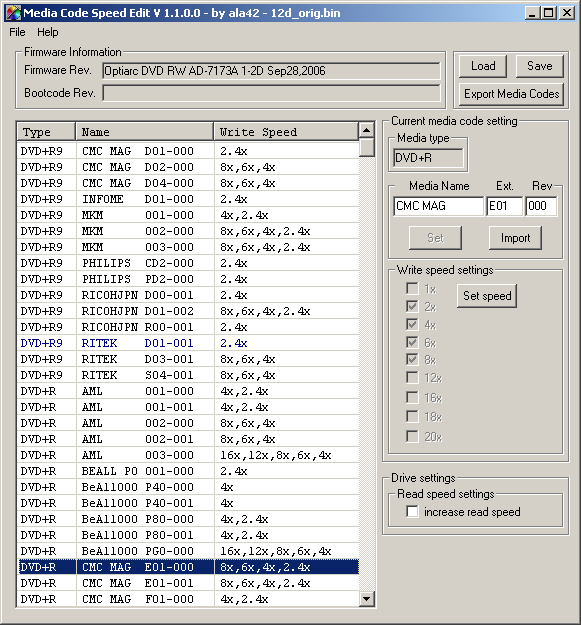 Latest Version:



MCSE Homepage MCSE Homepage Mirror Download Changelog Main MCSE discussion thread
This first post has been updated to reflect the current development state of MCSE V 1.1.0.16