LDW-411S FS07 4.4GB movie
Media Information
Region information N/A not a DVD-VIDEO
Media code/Manufacturer ID MXLRG01
Format Capacity Not Formatted
Free Blocks 411107328
Free Capacity 4.38GB(4.71GB)
Book Type DVD-R
Media Type DVD-R
Media Id Code Speed 2.0x 2770KBps
Available Write Descriptor CLV 2.0x 2770KBps
Write Strategy Speed 1.0x 1385KBps
Data area starting sector 30000h
Linear Density 0.267um/bit
Track Density 0.74um/track
Number of Layers 1
00 6C 00 00 01 40 C1 FD 9E D8 50 00 02 58 0F 11 .l…@…P…X…
98 99 80 00 03 4D 58 4C 20 52 47 00 04 30 31 00 …MXL RG…01.
00 00 00 00 05 88 80 00 00 00 01 00 00 00 00 00 …
Sold as Maxell DVD-R 2x
this disc fails to read in Kprobe. At 2x read speed the scan fails at 19% with "Unrecovered Read Error". This is the first 18% of the disc scanned at 2x, ECC sum-8: This disc is more or less a coaster. My 166S ROM drive seems to be able to read it, but downshifts to 1x for the entire disc in DVDInfo.
Edit:I did another burn and scan with FS07, the results were the same.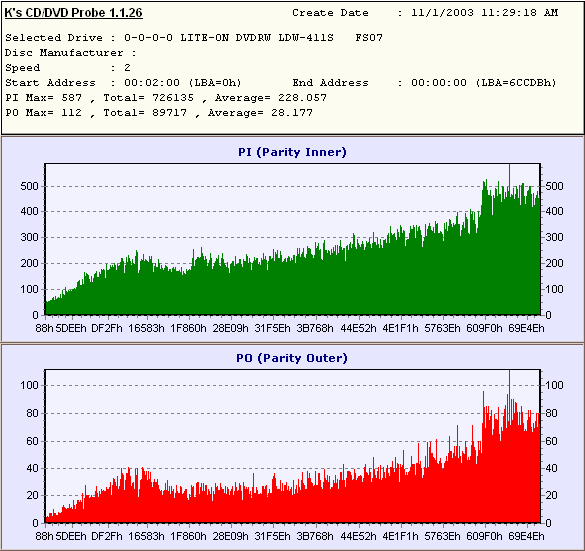 Using the 166S to scan, the test completes at full speed (8x CAV), and here's the result: