This new firmware is posted at dhc014's web site . I had a chance to do some testing with it, the results are mixed. It appears to offer slightly lower error rates on CDR media, but considerably higher error rates on US RW media. Here's a few scans:
TY 48x, burned at 52x. It completes the entire burn at 52x, including the lead-out. Qs09 often will not finish the entire burn at full speed.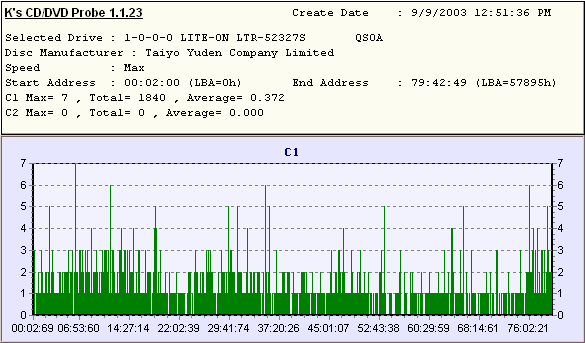 This is slightly lower than Qs09. To confirm that it was improved burning and not improved reading, I also scanned the disc with QS09, and the results were similar with slightly lower errors than a disc burned with QS09 and read with QS09. In general the total error count is about 50% lower with QS0A, as is the average count.
RiTEK TG (Fuji 48x) burned at 48x: (The 7S drive still will not burn RiTEK faster than 48x with SmartBurn on);
The difference is similar with the RiTEK media, though slightly less pronounced than with TY.
Verbatim (Mitsubishi 48x), burned at 52x: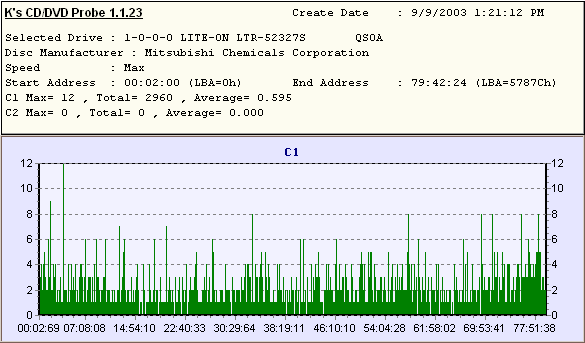 Also slightly better than with QS09.
Now for the bad news, RW quality has suffered. Here's Mitsubishi US 650, burned at 24x:
Here's the same disc, full-erased and burned with QS09:
So, QS0A is a mixed bag. It seems to confirm my suspicion that high-quality CDR burning and high-quality RW burning may be mutually exclusive on a given drive. We'll have to wait and see what happens with the new 32x RW media, perhaps it will do better with the newer firmware.