According to this info, LabelFlash is (at the moment) superiour to LightScribe!!
It can write (label) both sides of a disc it has multi-color disc labeling and it only takes 5 minutes instead of the 30 minutes LightScribe needs.
Beneath you'll also find more info about some new NEC DVD-writers.
LabelFlash Technology to Challenge Lightscribe

NEC showcases the world's first DVD burners with LabelFlash technology at the IFA, Berlin. The two PC drives and the slimline drive for notebooks will be available from October onwards.
Initially introduced by Yamaha Corp, LabelFlash is an alternative technology to Lightscribe. LabelFlash technology was introduced by Yamaha back in 2002 with the name "Disc T@2", and is able to burn (laser) custom motifs, lettering or images onto the top side of DVD blanks. At the IFA, NEC exhibited a wide range of new drives which not only support DVD+R(W) and DVD-R(W) but also, for the first time, DVD-RAM.
LabelFlash – faster labeling of self-burned DVDs
LabelFlash technology simplifies the labeling of self-burned DVDs – e.g. for archiving – and also enables creative DVD design. It eliminates the need for complex adhesive labeling systems and considerably enhances the durability of the media because, especially in the case of DVD blanks, the label can make the medium unreadable.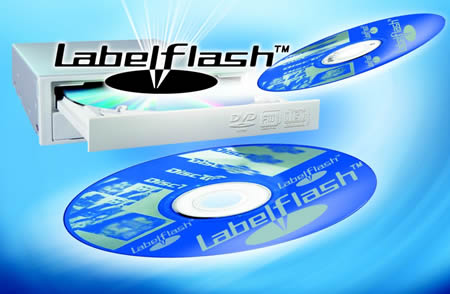 LabelFlash delivers high image quality because it enables 256 brightness shades. The labeling process takes around five minutes to produce excellent quality results. One special feature is that both the top side and the data side of the blank can be labeled – provided that there is enough available memory. LabelFlash can be used for any blanks with a writable top surface. On these media, the labeled top surface is covered by a 0.6 millimeter-thick protect layer which ensures that even labels that are exposed to light are extremely durable.
Competitive technology Lightscribe currently does not offer multi-color disc labeling and also the image burning process takes 30min. The updated Lightscribe technology is expected in the following months and will also come with specific enhancements in labeling quality.
Multidrives with DVD-RAM – all formats in one
At the IFA, NEC exhibits a wide range of new drives which not only support DVD+R(W) and DVD-R(W) but also, for the first time, DVD-RAM.
NEC's ND-4551A burner is a genuine multi-talent: DVD minus and DVD plus media are written at up to 16x DVD speed, while rewritable (DVD+RW) and double-layer DVDs (DVD +R9) are written at up to 8x DVD speed.
DVD-RW and DVD-R DL are processed at 6x speed. 5x speed applies for DVD RAMs. As a read drive, the burner delivers 16x DVD and 48x CD speed. NEC will also be marketing a lower cost model without LabelFlash, the ND-4550A, which has the same write and read speeds as the ND-4551A.
It is also launching two Slim SuperMulti DVD burners, optionally with or without LabelFlash, under the names of ND-7551A and ND-7550A. The ND-7550A slimline burner writes all DVD formats at 8x speed (DVD-R DL at 6x) and it can write DVD-RAMs at up to 5x speed.
The two new DVD burners ND-3551A (with LabelFlash) and ND-3550A (without LabelFlash) are also available in two further versions which do not support DVD-RAM.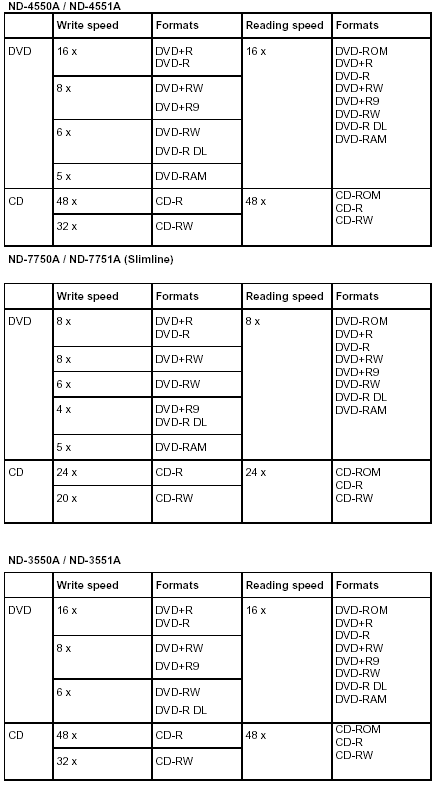 Source: CDRInfo