GameJackal: A First Look
GameJackal Website
Overview
GameJackal is a product that has been designed to remove the need of having to always use your CD to play your games. I can here the cry going up "Have you never heard of Virtual Drives". Well yes I have. The difference here though is about 700mb of disk space. GameJackal make a small profile, as small as 30kb up to 40mb which it uses to run the game instead of using the entire image like a virtual drive does.
That's the theory at least. Let's see how it performs.
Test PC
P3 450 MHz
384mb Ram
Windows Xp SP1
Everyday usage computer
The Software
This is the program setup. Looks nice and neat. Notice the "Show Tutorial" checkbox at the bottom. I ticked this hoping it would teach me how to use the software. Lets see.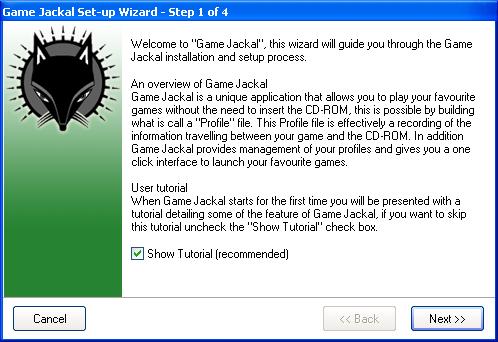 A standard agreement. You need to tick the box to go any further.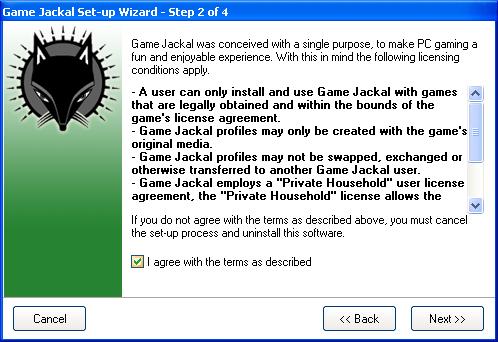 Here you have to enter or generate a key. It says that this will be unique and each profile will be encoded with this key. Why exactly? To stop piracy? I don't see how. I think this is one to ask the developers.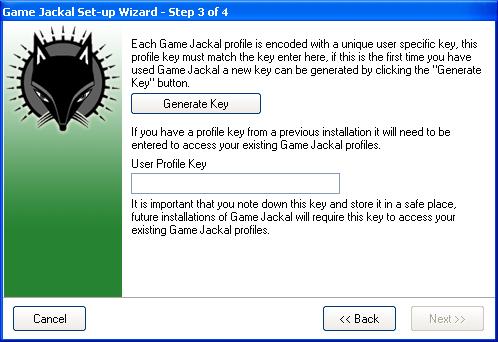 Thats it done and setup.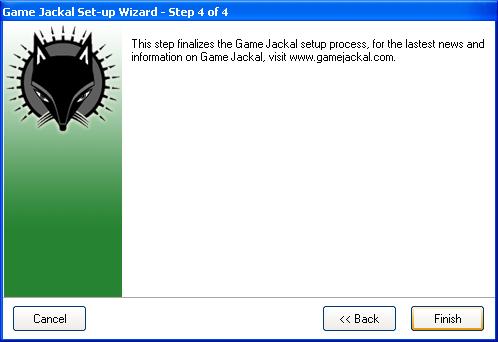 Now the tutorial kicks in. I worked through it and it gave me the basics of creating profiles. I won't show it all here.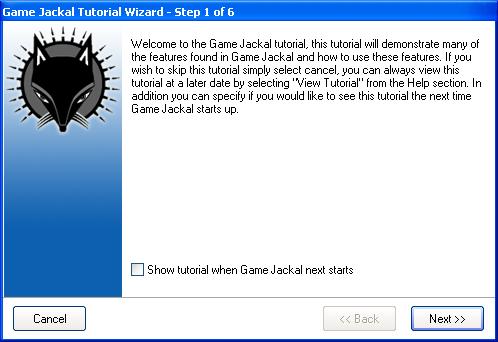 So then thats the program installed and the tutorial read through. You may now notice that you have a new icon in your task bar. This is the GameJackal program.


So now we get into the actually program. It looks good. Simle and easy to use. I though the best thing to do first was to update the software to the latest version.


This is the updating window. It ran through quite quickly here. In total two separate files seemed to be downloaded but only one got installed.


Now to crack on with the program. This is the first screen in the Create A Profile program. First off you have to have already installed the game. If you haven't then this isn't going to work. Luckily I have. The first thing I notice here is that the "Target CD-Rom Drive Letter" only displays the drive letter and not the drive name or any information. Personally I would like to see that here. As most people seem to have more than one drive the information DVD-Rom or CDRW would be a big help here. Even I had to check to see what my drive letters were assigned to.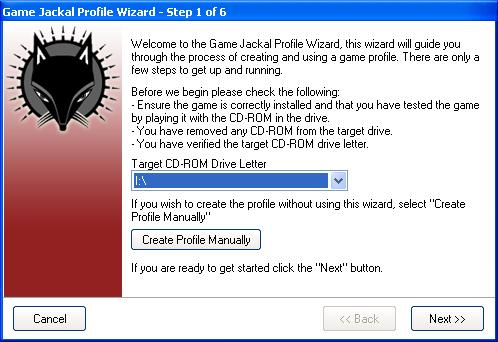 My first mistake. I had left the game CD in the drive. Simply opening the drive and continuing though gets around this problem.


Step 2. There are some pre made profile in the program. Only 33 at the moment though. However luckily I found one that I had. So i decide to try Roller Coaster Tycoon 2 as my first challenge.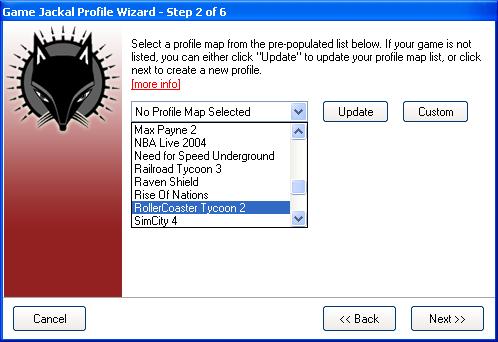 Because this is a pre made profile all of the basic information is already here.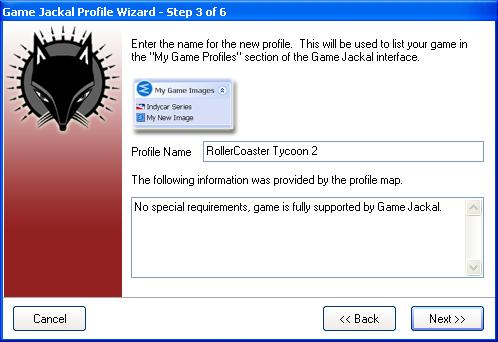 Next I have to find the program that runs the game. Easily done. However if the game is installed anywhere else than the default directory the red warning message will be displayed.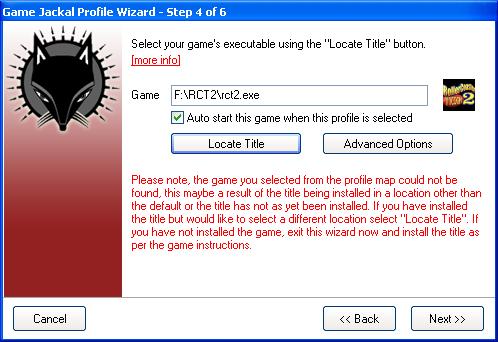 Here you now have to insert you game CD again. This is so it can finish building the profile for the game.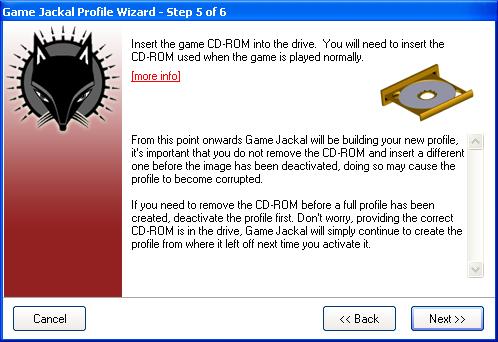 The last window in the Wizard. Notice the step number.
By hitting the finish button this window will close down and your game will startup, hopefully. GameJackal needs to run the game once with the CD in the drive to collect all of the settings it needs.

This information will come up when GameJackal is running. Basically it is saying that nothing else will be able to access the drive while GameJackal has control over it.


So what happened I can hear you cry. Well nothing. It came up with the following message and then stopped. So I tried again but still nothing. This is VERY disappointing as it was a pre-built profile. I tried building a profile manually but still nothing.


This time I decided to try a game that wasn't already in the program to see if it faired any better. For this I tried Command & Conquer: Tiberian Sun. By selecting "No Profile Map Selected" and then hitting next you will get to create your own profile.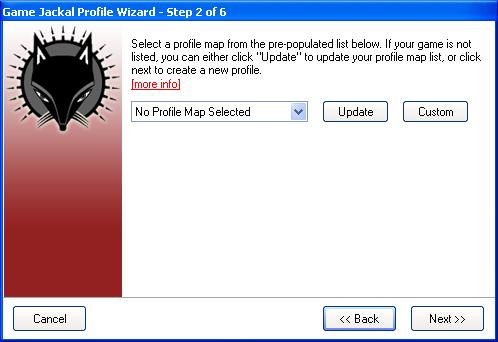 Here you get to name your profile.

Once again you have to find your game file and enter it into the box. Notice that the red writing hasn't appeared because it has been installed into the default directory.

Finally you have to insert your game CD again to complete the profile.

Once again it didn't work. The same message coming up about not finding the CD-Rom.
Very disappointing at this stage. 2 games tried 0 working. However not to be down hearted I thought I would try some more. As I have gone through the screens to get the program to work I will leave these out and move on to the results of the other games I tried out.
Results
Briefly the results are mixed. Out of the 7 games, 1 patch and 1 expansion pack I tried 5 worked but 4 didn't. This included Roller Coaster Tycoon 2 which is part of their predefined profiles.
The full list of games that worked for me are,
Total Club Manager 2003 - SafeDisc 2.80.010
Desperados - LaserLock
Championship Manager 03/04 - SecuROM 4.87.02.0017
The Sims - SafeDisc V1
The Sims Patched To 1.1
The Sims: Livin It Up - SafeDisc V1.50.020
The games that didn't work for me are,
Space Colony - SecuROM v4.85.00.0005
Beach Life - SecuRom 4.82.01.0005
Command And Conquer: Tiberian Sun - SafeDisc V1.11.000
Roller Coaster Tycoon 2 - SecuROM 4.83.11.0048
Problems
After I install GameJackal my optical drives stopped refreshing. This meant that when I put a new CD into the drive I could only see the contents of the last CD. This meant I had to keep on restarting the computer to see the new CD's. I am not saying this was directly due to GameJackal but since it happened at the same time I installed it I am suspicious. I don't have a second computer to try it on so I can't say if it was the program or not.
The other problem is that not all of the games would work with GameJackal. A number would simply not create a profile and simply come up with the message "No Disc Found" or something similar. The most annoying one was Roller Coaster Tycoon 2 which it has built-in support for.
Conclusions
What can I say about this program? I love the idea because it doesn't need the massive amounts of disk space that virtual drive requires. Also being able to open up the taskbar and select what game you want to play without having to load up the image is nice and quick and simple.
The positives first.
It ran half of the games I tried and since the first release was in November 2003 I think this is good going for six months work. I did also try a number of different copy protections to see if that would stop it and in some cases it still worked.
With the program coping with a patch update to a game without needing to make a new profile is great. I did have to make a new profile for the expansion pack but this was due to the fact that a different CD was needed to run the game. It still ran though.
Now the negatives.
As I previously stated the drive refresh problem was the biggest problem for me. Having to reset the computer every time was a pain in the you know where.
The next problem was the inconsistency in what games would work with this program. Having got The Sims to work I thought a game with a similar copy protection version on it (Command And Conquer: Tiberian Sun) would also work but it didn't. This obviously means other things are going on when making and using the profile which also means there don't seem to be a way of working out witch games are going to work and which are not.
Why is there a unique code that must be used? Why is this random number? If you format you hard drive and forget to keep it then you are going to have to rebuild all of your profiles. Granted since this process is quite quick it's not a massive worry. I just don't understand at present why it is there.
A final negative was the lack of options to play with. I can see that the developers have tried to make it nice and simply to all users but this then limits what a person can fiddle with to get a game profile to work. Some kind of expert mode is required here if possible.
Overall as previously stated I like the program. Hopefully after a few more updates more and more programs will work with it making it a must have program for laptops, families with small children and people who don't like to use the original CD's.
Well there you have it. Possibly great piece of software in the future. At present it just seems too hit and miss. If they get the bugs sorted and get more games to work with it then it is certainly a program I would buy. All I can say is keep on updating it.
Womble
All opinions expressed in this article are mine and no-one else's.