GameJackal 2: The Second Coming?
GameJackal Website
Overview
GameJackal has been designed to do away with the need for both disks and virtual drives in order to play your disks. It creates a small profile of the game that you want to play and then uses that to launch the game without the CD being in the drive.
Version 1 of this program gained a lot of admirers but it was limited in as much as if couldn't do the latest copy protections that were available at the time. However the team have been hard at work and have now launched version 2. This has been designed to work with the latest SecuROM and SafeDisc versions as well as many of the other used protections.
So let's take a look at the program and see how it performs.
Test PC
P4 2.5 GHz
512 Mb Ram
Windows XP Professional
Everyday Usage Computer
The Software
The setup of Game Jackal is very straight forward so I will jump straight onto the main program. Remember to reset your computer after installation.
Once the computer has been restarted you should see the following icon on the desktop. Simply double click on it to lunch the program.

On the first launch of the program the following Wizard will come up. Here there is an option to show the tutorial for Game Jackal. If you are new to the program then this is recommended viewing. It will go though the main points on how to use the program.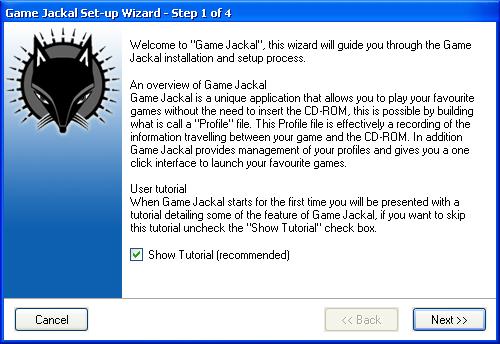 Once again there is a License to agree to. You will have to tick the box to continue.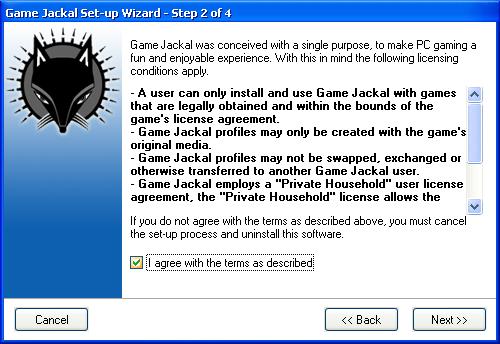 Now you have to generate a key. This is a unique key that will be attached to the profiles you create. This means that if you make a profile on one machine it can't be moved to another machine unless it has the same Profile Key.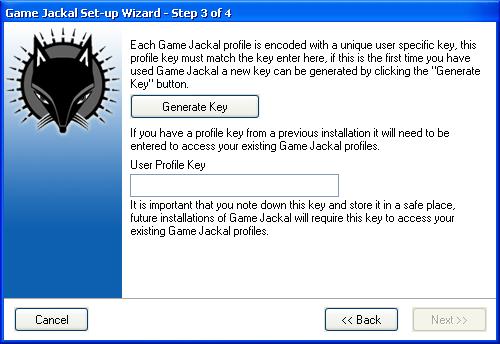 That's the program setup. It is now ready to be used.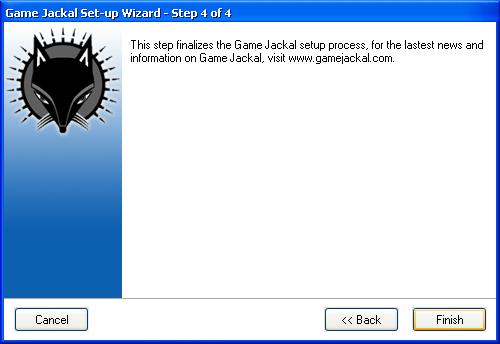 You should now see an icon in the lower right corner of your screen. This is the Game Jackal icon. If you click on this the menu system will be launched.


And here it is. It is fairly straight forward. The game profile that you create will appear at the top under the "My Game Profiles" title. Other than that all of the other commands are fairly self explanatory. Any sections that you aren't going to use can be minimised to free up some space.


The First thing I did was to update Game Jackal to the latest version. To do this all I had to do was click the "Update Game Jackal" button under tools. Just make sure you have your Internet connection turned on. The download took about 4-5 minutes on my 56k modem. Once done I then restarted my computer again. It didn't ask me to but I normally do when something gets updated.


So now everything is setup and updated we can move on to building our profiles for the games we want to play.
To get Game Jackal to work properly you must first install the game you want to play. If there are any updates that you want then these to must be installed. Finally make sure the game works normally by simply playing it for a short period of time. If the game didn't work properly with the CD in the drive then Game Jackal will probably fail to run it as well.
To launch the profile building wizard all you have to do is to click the "Create A Profile" button under Tools. The following screen will then come up. Here you need to select the CD or DVD drive that the game has been installed from. At this point make sure that the CD or DVD isn't in the drive but that you have it handy as it will be needed when you build your profile.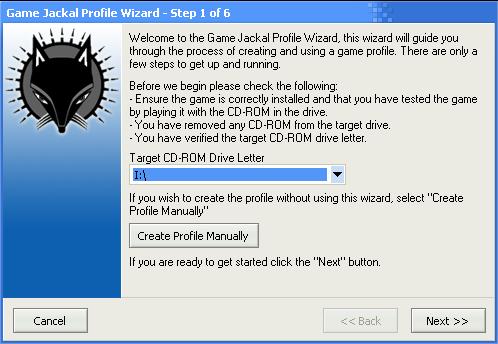 Next you will be taken to the predefined profiles screen. These are profile that the makers have made and stored. If your game is here then you can select it to speed up the process. This is basically a library of games that have been tested by the developers and certified as 100% working. Here I have found a game that is in the list to try first.
Also note that there is an "Update" button here. This is to update this list of profiles with more as they become certified and available for download.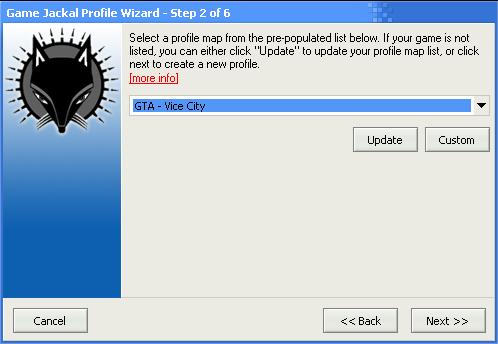 The next screen to come up give an overview of what maybe required to get the profile to work. In this case for Grand Theft Auto: Vice City you will need to play the radio station though for the profile to store them as they are normally kept on the CD. This will be the same for games that have movies stored on the disks as well.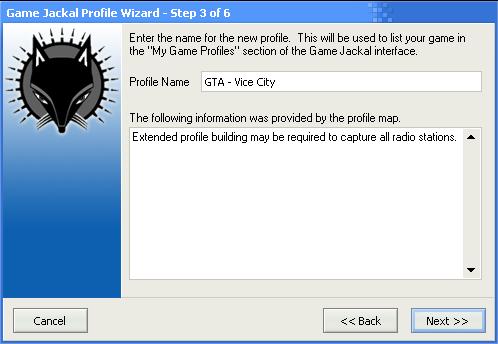 Next it will ask you to locate the main exe of the game. If it is a predefined profile and you have installed the game in the default location then nothing should have to be done here. If you have installed the game to a different directory then you may have to locate the exe manually. To do this simply click the "Locate Title" button and browse through your drives and directories until you find it.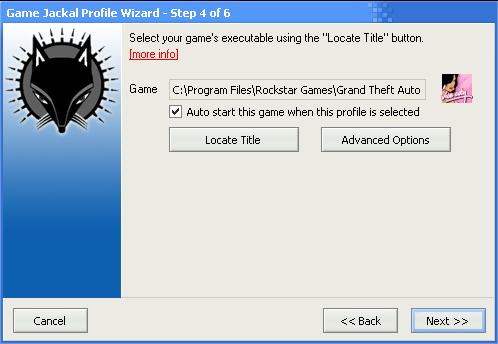 Now you will be asked to insert the CD or DVD. This is to verify that you have the CD or DVD. This will normally only take a few seconds.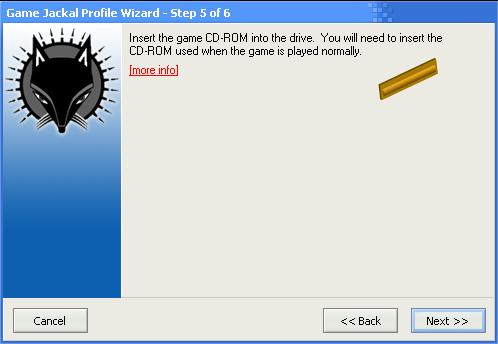 That is it now setup. The first time the game is played the CD or DVD will need to be in the drive for the profile to be built. After that if everything has been successful you will be able to remove the disk and play without it.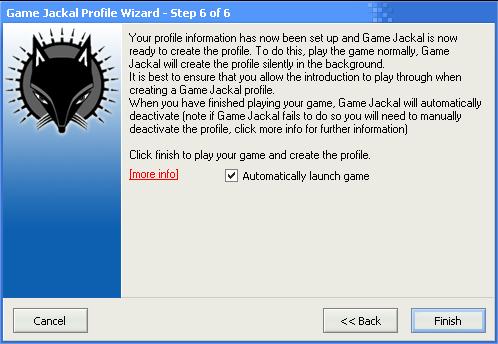 Now lets move on to a game not already in the predefined profile maps. Once again you will need to click on the "Create A Profile" button and then select your drive.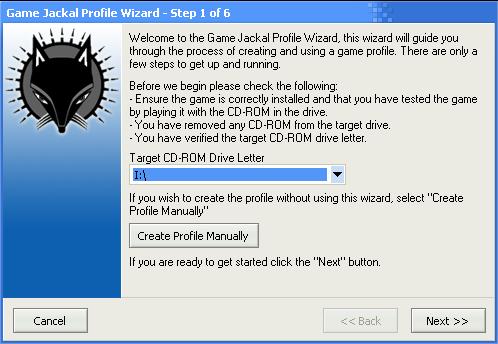 Next instead of finding the profile you want to use you need to leave it on No Profile Map Selected and click the next button.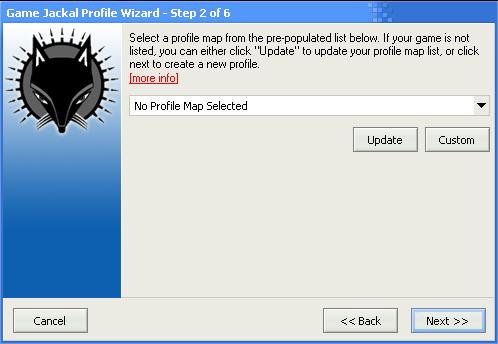 Now enter the game of the game that you want to create a profile for. Here I am creating a profile for Evil Genius.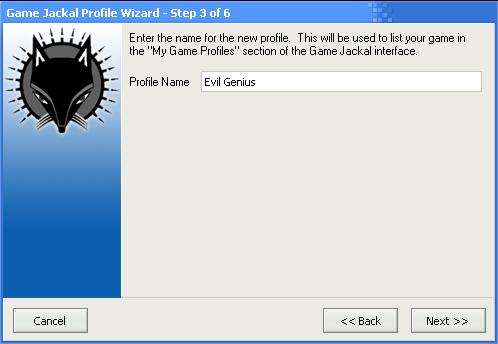 Because Game Jackal knows nothing about this game you will have to find and locate the exe file for the game. Just navigate to the installation directory of the game on your hard drive and then find the exe file. It is normally the one with the picture.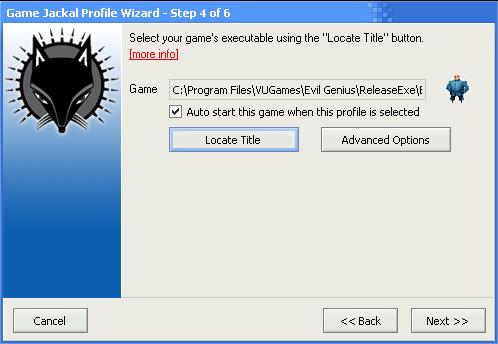 Once again you will be asked to insert the disk.

That's it. All you have to do is launch the game and play it for a while to see if it works. If it does then you can exit it and then play it through the Game Jackal interface.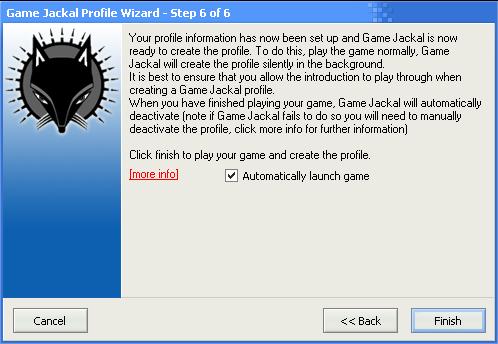 When you have created your profiles you will be able to find then under the "My Game Profiles" heading. To run a game all you have to do is click on the game you want to play.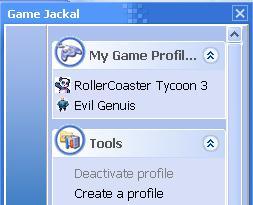 The icon at the bottom of the screen will now start to spin and tell you some messages. After a few second the screen will change and the game will load up.


Guardian Control
Guardian Control is a new feature in version 2. It basically allows you to limit the amount of time a user can play a game or completely stop someone from starting up the game. This is great news for kids and parents sharing a computer. It means that it can be set to stop children from playing the grownup violent games and can limit the amount of time they can spend playing in a given period of time.
I had a bit of a fiddle with it and it seems to work fine. The only trouble with it I had was setting up the privileges to begin it. Although I managed to figure it out it could possible be a little overwhelming for a beginner or novice.
Problems
I didn't have any major windows related problems with Game Jackal on my computer. In version 1 my main problem was that my drives stopped refreshing and I had to reboot everytime to get them to work again. Not this time. One problem fixed.
In essence the only problem I had was creating profiles for SecuROM games. For some reason my computer just would not do it. It would play the game through Game Jackal but then would come up with a message saying "Please insert original disk" as soon as I removed the disk and tried to play without it. I removed software, I reinstalled and in the end I formatted the machine and tried it again. Low and behold it worked first time and everytime. So unfortunately there seems to be an issue with some programs stopping the creation of SecuROM profiles.
Results
Below are a summary of the games I tested along with the copy protection versions.
Working
[ul]
[li]The Sims - SafeDisc 1
[/li][li]The Sims Patched To 1.1 - SafeDisc 1
[/li][li]Command And Conquer: Tiberian Sun - SafeDisc 1.11.000
[/li][li]The Sims: Livin It Up - SafeDisc 1.50.020
[/li][li]Total Club Manager 2003 - SafeDisc 2.80.010
[/li][li]FarCry - SafeDisc 3.20
[/li][li]Football Manager 2005 - SafeDisc 3.20
[/li][/ul]
[ul]
[li]Desperados - LaserLock
[/li][/ul]
[ul]
[li]Beach Life - SecuROM 4.82.01.0005
[/li][li]RollerCoaster Tycoon 2 - SecuROM 4.83.11.0048
[/li][li]Grand Theft Auto: Vice City - SecuROM 4.84.69.0071
[/li][li]Space Colony - SecuROM 4.85.00.0005
[/li][li]Championship Manager 03/04 - SecuROM 4.87.02.0017
[/li][li]Sid Meier's Pirates - SecuROM 5.03.06.0042
[/li][li]Evil Genius - SecuROM 5.03.06.0051
[/li][li]RollerCoaster Tycoon 3 - SecuROM 5.03.11.0047
[/li][/ul]
Not Working
[ul]
[li]TrackMania + Power Up Expansion Pack - StarForce 3.3.35.04
[/li][/ul]
Positives And Negatives
Below are the positives and negatives of the program.
Positives
[ul]
[li]Every game that should have worked did
[/li][li]Easy to use
[/li][li]Quicker loading times
[/li][/ul]
Negatives
[ul]
[li]Had to reinstall windows to remove the SecuROM profile creation issue
[/li][li]Drive name not shown. Just the drive letter
[/li][li]Possibly confusing Guardian Control settings for beginners
[/li][li]Sorting of Game Profiles not in alphabetically order
[/li][/ul]
Conclusions
In my review of version 1 I stated,
"Well there you have it. Possibly great piece of software in the future. At present it just seems too hit and miss. If they get the bugs sorted and get more games to work with it then it is certainly a program I would buy. All I can say is keep on updating it."
Well they have, and now it is probably the easiest way of playing your games without the need for the disk. If a patch comes out all you need to do is rebuild the profile again and off you go. Fantastic.
Obviously for me the issues with SecuROM forcing me to do a reinstall are an issue but hopefully this is something that can be found and fixed in updates in the near future.
The other main issue is still the letter of my drives. I have three optical drives and up to 4 virtual drives on some occasions. I do tend to forget which is which at times so the addition of the names of the drives would be a big help.
Finally I would like an option to sort the Game Profiles. By this I mean by the amount of times played or alphabetical. This way if I have a lot of games installed I would be able to find what I was looking for quicker. With a couple of games it doesn't really matter but after I had all of the games installed that I was testing it got a little confusing.
Game Jackal is defiantly moving in the right direction and with new features like Guardian Control is defiantly a program that will allow parents to limit what there children can play and for how long.
In all this is a massive jump forward from version 1. This version really does seem to be able to create a profile for just about any game and copy protection and let you play it. It has also been stated by the developers that they are working on Tages and StarForce, so soon any game you have will be playable without the disk or disconnecting your drives.
All I can really finish with is that Game Jackal has now come of age.
Womble
08-02-2005
This was an independent review of Game Jackal and all opinions expressed in this article are mine and mine alone