An earlier thread alerting us to this new Fujifilm 8X +R packaging which looks like this: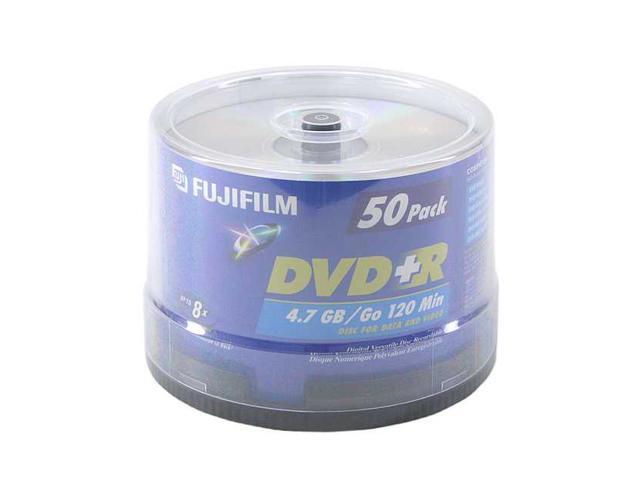 If you have Fry's near you then you should definitely go and check. As I was browsing inside Fry's this afternoon…A whole stack of Blue Fujifilm Cakebox caught my attention. As I walk closer I can see all of them are in TY 50pack Trademark shape Cakebox. A little closer it reads: DVD+R, Up to 8X, MADE IN JAPAN printed on the Label
It looks identical to the picture above.
To top it off the regular price is $39.99…There is a $10 rebate to bring it down to $29.99 + tax. The rebate is good for 50Pack +R, -R and 25Pack +R; expires 9/30 so plenty of time left. You can claim max. of 3 rebate per product type - upto a max. of $75 rebate amount.
Sure enough, pop one in DVDINFOPRO:
                        Media Information                            

Region information N/A not a DVD-VIDEO
Media code/Manufacturer ID YUDEN000T02
Media Product Revision Number 00h
Free Blocks 405405696
Free Capacity 4.38GB(4.70GB)
Book Type DVD+R
Media Type DVD+R
Default DVD+RW book type DVD+RW
Default DVD+R book type DVD-ROM
Media Id Code Speed 8.0x 11080KBps
Available Write Descriptor CLV 8.0x 11080KBps
Available Write Descriptor CLV 5.9x 8112KBps
Available Write Descriptor CLV 4.0x 5540KBps
Available Write Descriptor CLV 2.4x 3324KBps
Linear Density Blank Disc
Track Density Unknown
Number of Layers 1
00000000 01 02 00 00 A1 0F 02 00 00 03 00 00 00 26 05 3F …&.?
00000010 00 00 00 00 00 00 03 59 55 44 45 4E 30 30 30 54 …YUDEN000T
00000020 30 32 00 38 23 54 37 10 02 4E 72 02 8C 63 16 16 02.8#T7…Nr…c…
00000030 0B 0B 0A 0A 01 19 1B 0C 0C 0C 0D 01 00 00 00 00 …
The media top is normal Fuji branded matt silver with "Made in Japan" and "Up to 8X" printed…No worry about getting fake stuff.
If Fry's or Newegg carry these I would imagine most of the Chain stores will too…Good luck finding them folks.
Now I do have an excuse to get a NEC 3500A to test 16X burns

Yet to make my first burn but I do not expect to be disappointed doing these at 8X in my 2500A