What can I say?? not long for 8x DL I guess… just have to wait for the media to come… our drive is ready… is the media ready?
looks good. the model number has been cut off though. most prob the liteon 812s @ 832s
cant wait for media. should be good
It took over 24 minutes to burn at 4x DVD+R DL speed?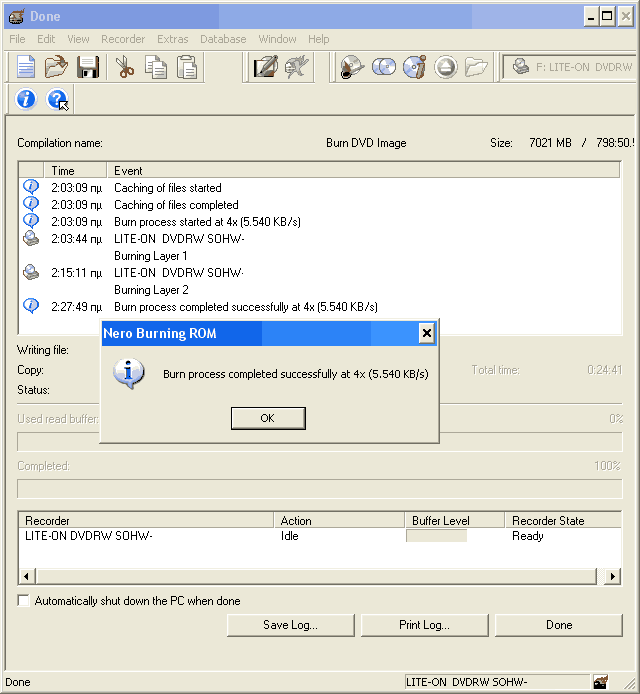 Sorry, thread moved from NEC forum to Recording Hardware forum though the drive seems to be a LiteOn SOHW-xxx model and the media used has a Mitsubishi code.
Edit:
I miscalculated the writing speed. 24 minutes and 41 seconds, or 1481 seconds, for 7021MB seems fast enough for 4x DVD+R DL.
The drive seems to be a SOHW-832S most likely.
Good news. If you use AnyDVD, you can make an "on-the-fly" copy of an original movie in about 25 minutes. In addition, this 4x burn was done on a Verbatim DVD+R DL 2,4x medium! I hope this will also work in a NEC 2500@2510. If I remember correctly, Herrie managed to unlock the 4x writing speed. The result @4x was a power calibration error, though.
Any news, Herrie?
I'm missing some KProbe scans of their burns. Otherwise we could just take a modified NEC ND-2510A which is able to give a writing speed of 8x for DL media. But I'm sure the results would be terrible.
They didn't provide Nero CD/DVD speed transfer rate graph nor K-probe.
I hope DVD burn this way are readable.
I have my doubts about this