Sorry for starting another thread, I feel like this is not quite the same as the other one. First I want to thank you all for your help in the other thread, really I still don't understand the first thing about this and second I want to update you guys a bit.
These days the only media I can get is Verbatim. From the outside they look weird… I don't want to say fake, but they don't look alike from others I bought even 2 months ago. The edges of the disk look really, I don't know… sort of poorly printed.
You can see it here: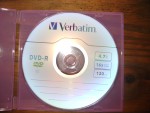 This is info I get in both Nero (for some reson, Nero never lets me do the Dick Quality scan, ever) and DVD Identifier.
[
I didn't mean to burn it with Nero, I was just clicking around and cancelled it quickly :o
Are these okay or what? The code on the center of the disc (not the transparent part) is MOGXPR-438.
I can see that these say they're MCC, but I'm not sure. Plus, the info says DVD+R but the disc is DVD-R, I mean… ?
I don't want to make a huge deal out of this, but the things I burn in them are very dear for me
Thanks again for your help!
C.