I'm a movie lover, and have a comprehensive collection of movies, some of which I watched over and over again. I got interested in French after watching so many French movies like "Les Choristes" and reading books about French life, history and scenic spots. And I had planned to have a tour in France next year and stay there for some while.
I found that watching movie is a great help to my French study. We all know that, the movie lines are usually more life some than that of most books, and we can learn more about the life in the country that the story takes place. I learned a great many of interesting, graceful and classic lines from movies like "March of The Penguins", which is one of my favorite French movies.
In the very beginning, I had to read the subtitle while listening to the French sound to get what the actors talk about. One day, I suddenly got an idea that, listening to the movie sound in my iPod shuffle anytime on my way. Just imagine! In that case, I would study French while enjoying the great movie music and retrieve the classic movie scenes, what a wonderful joy! But then, I found I plunged myself into deep puzzle, that is, how to extract the sound out of the movie?
I chatted with a friend about my puzzle accidentally on a party. Unexpectedly, that guy told me it's rather simple. To download a DVD audio ripper is everything. That delights me.
I did a google search of "DVD Audio Ripper", and found a lot of that kind of software. I downloaded several of them. After some try, I finally chose ImTOO DVD Audio Ripper since it's so simply-designed and easy-to-use while still satisfies all of my needs.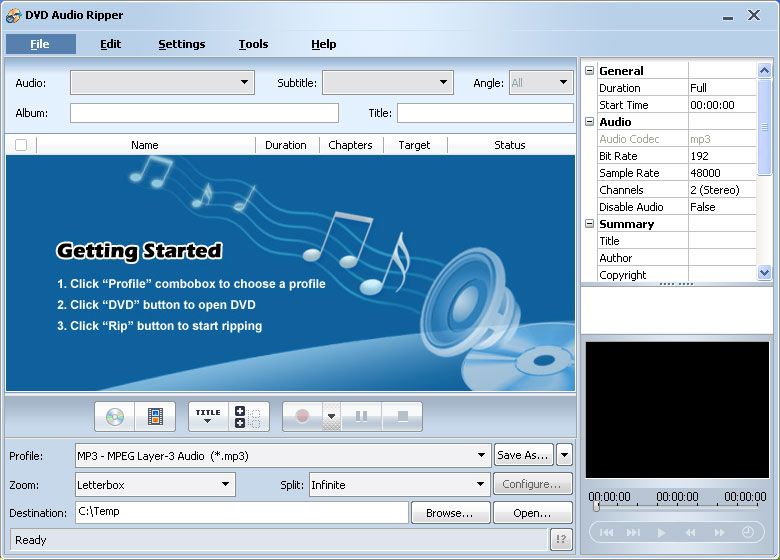 Insert my movie DVD, the name, duration and chapter numbers of all titles displays in the list with clarity. I chose MP3 as the profile.
I like the Split function most, which is very useful for me. Provided that rip the whole movie to one MP3 file, it's too inconvenient when I just want to listen to certain sound. The software offers several split modes, and you can also customize the time you wish each audio file doesn't exceed. Here, I entered 5 minutes.
From the right panel, we can see "Duration" and "Start Time" option. However, I had no idea of what to enter in "Duration" at first. I entered 200 (actually I'm not sure it's 200 seconds or minutes), and "00:05:00" in "Start Time", and click "Start Ripping". After a while, three MP3 files listed in the destination folder immediately. I got to know that is used to clip movie segment to rip. It would be better if reminds us enter seconds of the clip. But I had to admit that this function is very powerful, because I just want to rip the main movie with ads, special features omitted. Okay, then I just entered the start time and duration of the main movie here.
After that, I just clicked "Start Ripping" and waited for the audio files coming out.
In general, this software is rather easy to use. And I'm rather satisfied with the excellent sound quality. Now, I have been listening to the wonderful movie sound and studying French anytime in my iPod shuffle, what a joy!