Download SmartRipper by Tron from here. Unpack to C:\Program Files\SmartRipper\ (or whatever drive letter you want) and you'll have to create your own shortcut.
Insert a DVD into your reader or burner. Start SmartRipper and this window will appear
to be replaced by this window, the Movie Rip-Method, where Chapter 1, the longest and most likely the Main Movie, has been selected. This is not always the case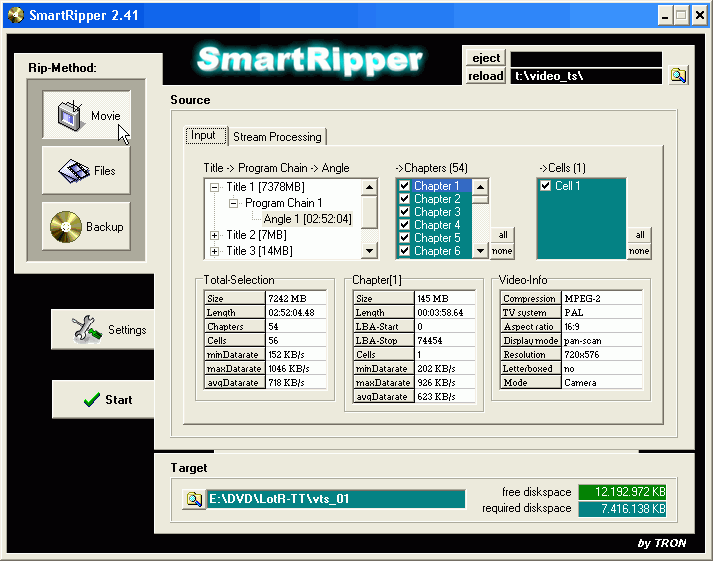 If you click the Files option, you'll see this window
If you want to write with CloneDVD, or perhaps another application, you will need to tick the remaining .IFO files as CloneDVD needs these. Clicking the Backup Rip-Method, displays all of the files on the disc, for ripping; you can play these files from your hard-drive using a software player like PowerDVD.
Go back to the Movie Rip-Method and select the Stream Processing tab and tick the Enable Stream processing check-box, if it's not ticked.
Here, you can deselect any streams you don't wish to have on the backup. Personally, I keep just the Main Movie, English Subtitles (for those annoying times when the character does speak in a language other than English) and Dolby AC3 or DTS.
Click the Settings tab and then the Movie tab. You will not need to change any settings here unless you are an advanced user. Choose the Settings as shown.
Click OK to save and exit the Settings.
You must also choose your target directory by this point by clicking on the Explorer icon under "Target".
After browsing to your directory of choice, click Start (under the settings button). The rip process will begin …
…
and be complete!
No transcoding has taken place …just a straight rip
and Explorer will look like this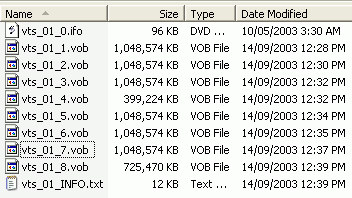 although, I have ripped only one .IFO when all are needed for transcoding in CloneDVD, and maybe some other DVD transcoders/burning apps.
Good luck. Got problems? Then post here.