I got a lend of a Pioneer A03 DVD recorder to backup my MP3 singles and 83 Albums of OGG Vorbis tracks. At a later stage, I got a lend of a LaCiE Apple firewire DVD recorder to backup my Music Video collection and software collection.
When I went to read back the DVD-R's in my Star 2000 12x DVD-ROM drive, it would read roughly 80% - 90% of the DVD, get stuck and give a CRC error. It read two of the DVD-Rs fine (both eProformance; one written in the Pioneer and the other from the LaCiE), so I used one of these DVD-Rs to do the tests shown below.
I decided it was time to get a new DVD-ROM drive. I went for an LG GDR8161B in PC-World. It struggled to read about 10% - 20% of each eProformance branded DVD-R and gave up with CRC errors. It read my Memorex DVD-R fine with a read speed starting at 2.4x and working up to 5.99x at the end of the DVD-R.
I brought the LG back to PC-World and got it exchanged for a Samsung SD-616Q. This drive reads my DVD-Rs perfectly, but only a fraction of DVD-ROM speeds. I have updated the firmware to E403 (RPCI patched). Use MTKFLASH 1.48 to do this, newer versions of MTKFLASH will improperly flash the drive and will result in a non-functioning Samsung
until reflashed using MTKFLASH 1.48.
DVD-ROM speed in the Samsung SD-616Q: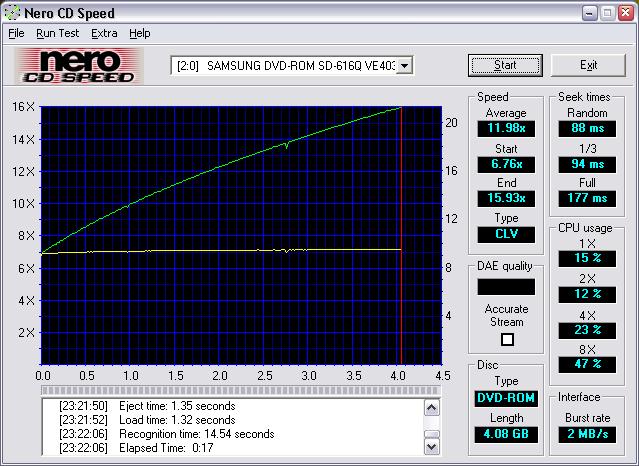 DVD-R speed in the same Samsung SD-616Q: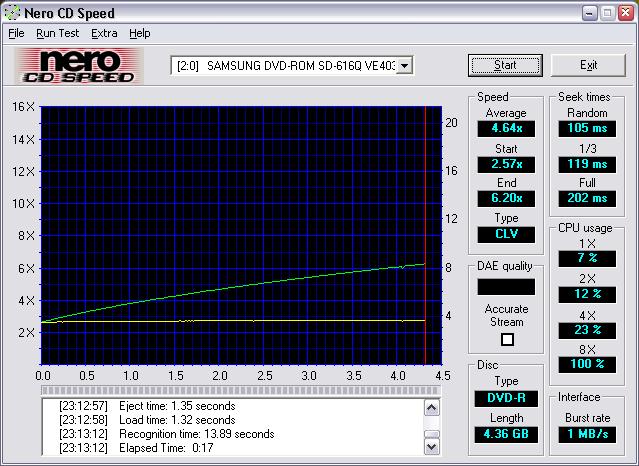 DVD-R speed in my older 12x Star 2000 drive (firmware 1p21):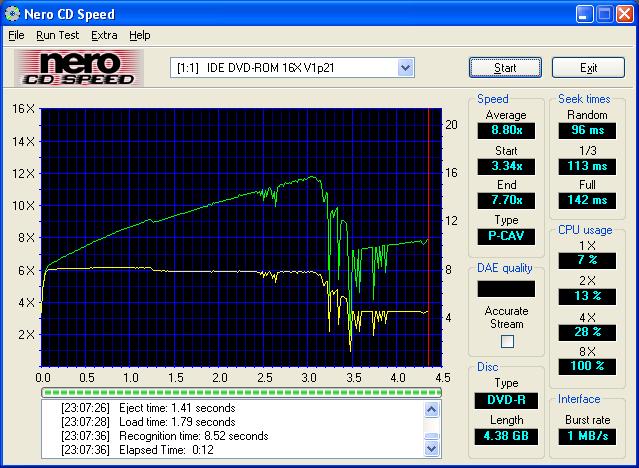 The Star 2000 reads DVD-ROMs a little better than the DVD-R performance shown above, but does not reach 16x as the firmware said the drive should do. Anyway, this drive was the cheapest drive I could find while in the US, so what performance would one expect?!?
Anyone know of any software, driver, etc. to improve the Samsung's performance for reading DVD-R's?