What is DVD Flick?
DVD Flick aims to be a simple but at the same time powerful DVD Authoring tool. It can take a number of video files stored on your computer and turn them into a DVD that will play back on your DVD player, Media Center or Home Cinema Set. You can add additional custom audio tracks as well as subtitles of your choice.
Supported file container formats are, amongst others, AVI, MPG, MOV, WMV, ASF, FLV, Matroska and MP4. Supported codecs are amongst others, MPEG-1\2\4 (XVid, DivX, etc.), Windows Media Audio\Video. MP3, OGG Vorbis, H264, and On2
VP5\6. For a full list of supported container, audio and video formats, see http://ffmpeg.mplayerhq.hu/ffmpeg-doc.html#SEC20
DVD Flick is Open Source, meaning that anyone can download and view or modify the program's source code. It also means that it is absolutely free of charge. Several external programs are used by DVD Flick to do the dirty work like encoding and combining of video material. All of these programs are free, some are Open Source too.
If you have a question, want to read the FAQ, report a bug or tell me about your favourite pet, feel free to post in the Forums. If you want to view more information, or download older releases, please visit DVD Flick's SourceForge
project page.
If you like DVD Flick, any donations are welcome to be made through the SourceForge.net donation system. I will personally make sure to enjoy the beers so generously offered.
Where do you get it?
DVD Flick -> http://www.dvdflick.net/
Download and open the setup wizard and follow the prompts to install DVD Flick on your PC.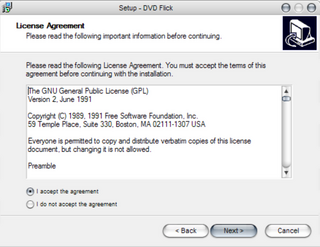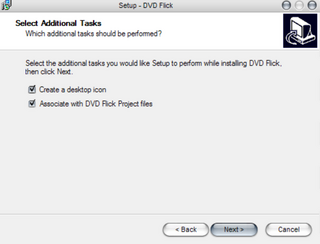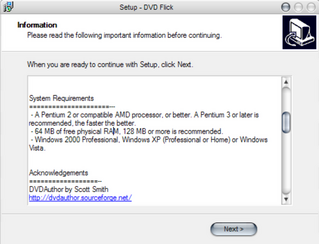 Open DVD Flick and choose ADD TITLE, browse to the file(s) that you want to encode and burn onto a DVD.
When the title has been imported into the queue double click it to edit general settings particular to this project. These settings are pretty straight forward and self explanatory, but here is a brief walk through anyway.
General Settings:
Under the General settings tab you choose how you want DVD Flick to create chapter on your project as well as the aspect ratio of the film.
Video Settings:
Add more clips or remove unwanted clips under the Video Settings tab. You can also reorder clips if dealing with multiple files.
Audio Settings
Remove unwanted audio tracks here if there is more than one available.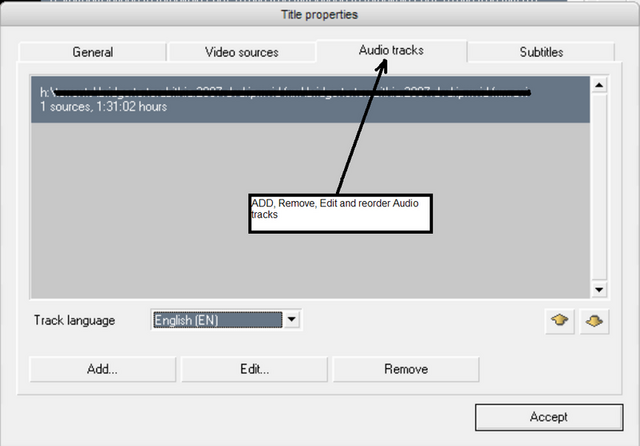 Subtitle Settings:
Add, Edit and Remove subtitle files under the Subtitle tab.
When you are satisfied with the changes you have made to your project, click Accept.
Click the Project Settings radio button to access DVD Flick quality, audio, video and burn settings. Once altered these settings should become default. It is a good idea to go through them so that you can tweak the program the way you want it to operate.
The General settings tab:
Select the default project size you would like to use. In the drop down menu for "Target Size" there are several default options depending on what type of disc or file you are going to make. For this guide I will be encoding to a single layer DVD. I prefer a custom size of 4400MB, this will prevent me from burning too close to the edge of the DVD. In the drop down menu for target size choose "custom" and type in 4400 in the window below the drop down.
You can also choose the priority of the encoding. Encoding is very CPU intensive and therefore multitasking isn't recommended, but if you need to set the priority to a lower level so that you can preform other basic tasks while DVD Flick encodes your project you can make that assertion here.
The Video tab:
Target format - for the US is NTSC and for Europe is PAL. These are the different frame rates that are found around the globe. It is important to know what is used in the region that you live in or the video produced may not be viewable on a standalone player.
Encoding profile - This is the speed setting for encoding. Faster = less accurate and slower = more accurate thus resulting in a higher quality output.
Target Bitrate - Higher bitrate = higher quality and lower bitrate = lower quality.
Click the Advanced button:
These are additional quality settings that most average users will not use. If an explanation is needed please press the blue ï" and DVD Flick will give a brief explanation on these settings.
Audio:
Here you can select a default audio track…I prefer AC3 5.1 because it is widely accepted and is downmixable on most systems to 2 channel when not viewing in stereo. Leaving this set to Auto is just fine though.
Burning: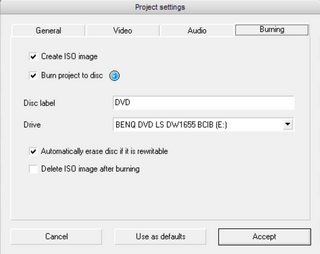 If you use Imgburn as your favorite burning application you will want to tick "Create ISO image" and DVD Flick will create an ISO for easy burning with Imgburn. If this box is left unticked, DVD Flick will produce a VIDEO_TS folder which can be burned using Imgburn via build mode or Nero or your favorite burning application.If you want DVD Flick to automatically open Imgburn when the encoding is finished tick the "burn project to disc" box. If you prefer to burn manually leave this option unticked.
Disc Label will allow you to name your project.
Drive: Choose the drive you want DVD Flick to open when the encoding is finished. The chosen drive will need to have a blank disc inserted before encoding is finished so that the file can be burned.
If you are using RW discs tick the "Automatically erase disc if it is rewritable" option. This will erase any data that is found on the disc before writing the new files to it.
"Delete ISO image after burning" - This option will delete the ISO image when the burn is complete to save room on HDD if needed. I prefer to delete my own files in case I want to make additional copies in the future.
When you are satisfied with the settings and changes you have made click Accept.
You should now be ready to begin encoding your project, so create a destination folder and click "Create DVD".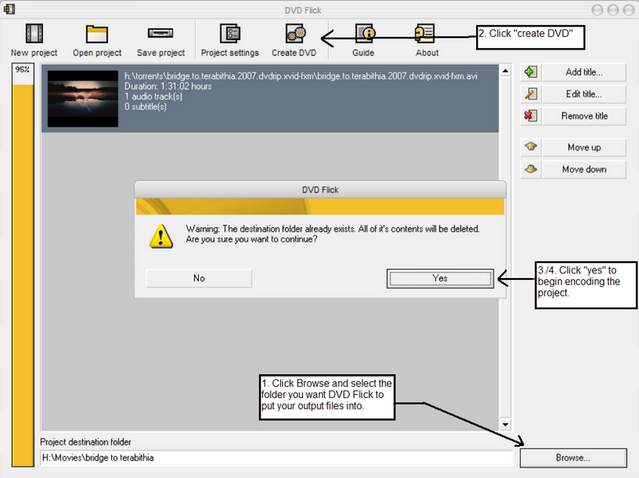 …Sit back and wait on your nice shiney new movie to pop out of the drive. Encoding times will vay based on your settings and the speed of your system as well as some other variables such as multitasking and internet usage.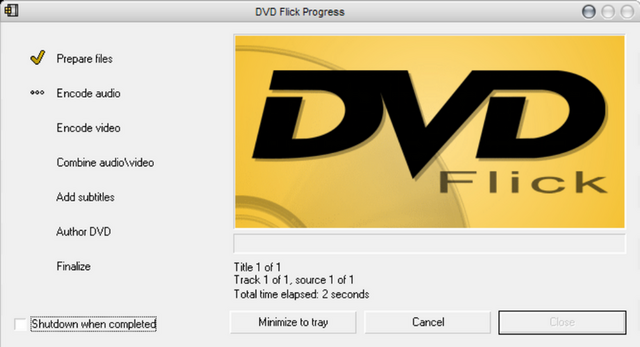 Enjoy!