Malaysia just receive sample from TEAC Japan~
TEAC DV-W516E DVD MULTI
DVD+R,-R & RAM support !!
Chipset:
Panasonic MN103SA6GSJ
Panasonic AN22115A
Design by TEAC B)
TEAC announced the DV-W516E atapi DVD burner, supporting 8X recording speed for DVD±R DL media. The drive will be in the market in the beginning of July.
The drive will be available in both retail and OEM market, and will come in three color variations (black, beige and silver). Teac expects to ship 500,000 drives during the first year of availability.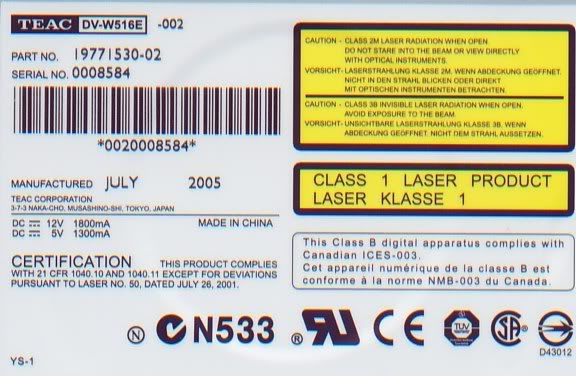 Specifications:
Write:
DVD+R: 16x ( CAV ), 8x ( PCAV ),4x ( CLV ), 2.4x ( CLV )
DVD+R DL: 8x ( ZCLV ) when using an 8x disc, 6x ( CLV ), 4x ( CLV ), 2.4x ( CLV )
DVD+RW: 8x ( ZCLV ), 6x ( CLV ), 4x ( CLV ), 2.4x ( CLV )
DVD-R: 16x ( CAV ), 8x ( PCLV ),4x ( CLV ), 2x ( CLV )
DVD-R DL: 8x ( ZCLV ) when using an 8x disc,6x ( CLV ), 4x ( CLV ), 2x ( CLV )
DVD-RW: 6x ( CLV ), 4x ( CLV ), 2x ( CLV ), 1x ( CLV )
DVD-RAM: 5x ( CLV ), 3x ( CLV ), 2x ( CLV )
CD-R: 40x ( CAV ), 32x ( PCAV ),16x ( CLV ), 8x ( CLV )
CD-RW: MS 4x ( CLV ), HS 10x ( CLV ), 4x ( CLV ), US 24x ( CAV ) 10x ( CLV )
Read:
DVD-ROM: 16x ( CAV )
DVD-Video: 8x ( CAV )
DVD-R, DVD+R: 10x ( CAV )
DVD-R DL, DVD+R DL: 8x ( CAV )
DVD-RW, DVD+RW: 8x ( CAV )
DVD-RAM: 5x ( CLV )
CD-ROM: 40x ( CAV )
CD-R: 40x ( CAV )
CD-RW: 40x ( CAV )
CD-DA (DAE): 40x ( CAV )
Audio Play: 4x ( CLV )
Random Access Time:
130ms typ. average ( CD-ROM, 40x )
140ms typ. average ( DVD-ROM, 16x )
Data Buffer: 2MB
Data Transfer Rate:
PIO MODE4
Single word DMA (Read Sustained) MODE2
Multi-word DMA MODE2
Ultra DMA MODE4
Feature:
-High speed ROPC (Running OPC) technology will monitor the recording procedure about 180 times per second, in order to maintain writing accuracy and enchance the recording quality.
-BURN-Proof avoiding Buffer UnderRun Error, Automatically adjusting writing strategy & running OPC to provide the best burning quality
Auto Bitsetting