Backup your Blu-ray movies using "BackupBluray"
This guide was co-authored and initially posted at WesleyTech as BackupBlu-ray Guide. WesleyTech also discusses copy Blu-ray. Thanks to Wes, muslix64, Janvitos, mrazzido and also all other contributors.
Update
1- (October 2007): This is an early method to backup your hi-def movies. At this point, I would recommend that you try out AnyDVD HD (free trial) or DVDFab HD Decrypter (freeware).
2- (March 2008): Now only AnyDVD HD can successfully rip newer Blu-ray (and HD DVD) movies. DVDFab HD Decrypter does not support Blu-ray and HD DVD anymore.
A) Backup to harddisk drive
The guide is based on the utility made by muslix64 called "BackupBluray" which is designed to help you backup your commercial Blu-ray (BD-ROM) movies.
Download BackupBluray version 021 from here: BackupBlurayv021.zip (15kb). Extract the zip files and you will see two new folders, "run" and "src" folders.

Download and install Java Runtime Environment which is needed in order BackupBluray to function. If java.exe is not in the system path, then copy java.exe into the "run" folder.

Find the CPS Unit Key for your Blu-ray movie(s) that you would like to backup. The keys can be found at Doom9's Blu-ray Volume Unique Keys thread or other locations on the net.

Navigate to the extracted "run" folder for BackupBluray and open CPSKey.cfg using a text editor such as Notepad. Add the CPS Unit key for your Blu-ray movie and save the file.

Insert your Blu-ray movie disk into your Blu-ray drive. Open a Command window (Start > Run > cmd and press Enter) and navigate to the BackupBluray "run" folder. Then enter a command line with the following syntax:
backupbluray source_drive destination_drive_and_folder
Example:
To backup your blu-ray movies from Blu-ray drive H: to a folder \bluray\movies in drive D:, type:
backupbluray h: d:\bluray\movies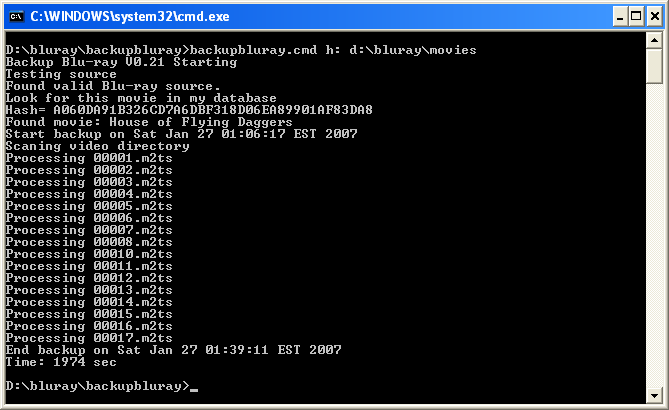 Check the destination directory with Windows Explorer to verify that the files were ripped. Obviously file 00001.m2ts is the main movie.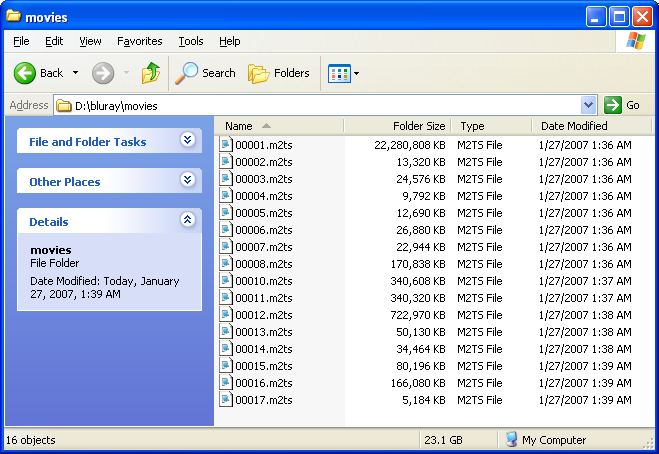 Compare the ripped m2ts files above with the original from the disc below. We can see that file sizes are different.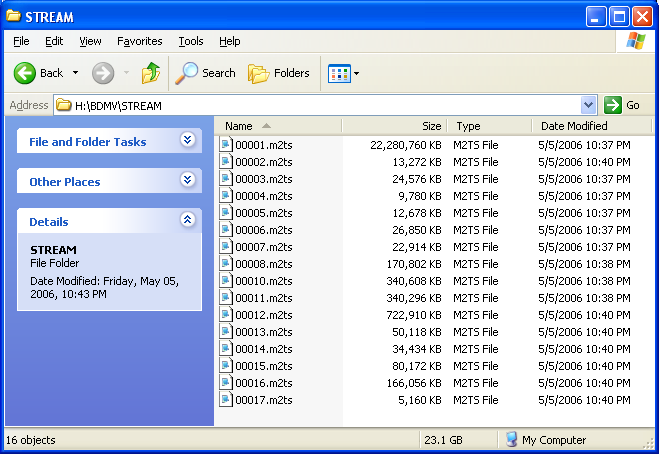 Playback the M2TS files using software such as VideoLan, Nero Showtime 3 or PowerDVD 6.6 BD. The following is a screenshot of 00001.m2ts playback using Nero Showtime 3.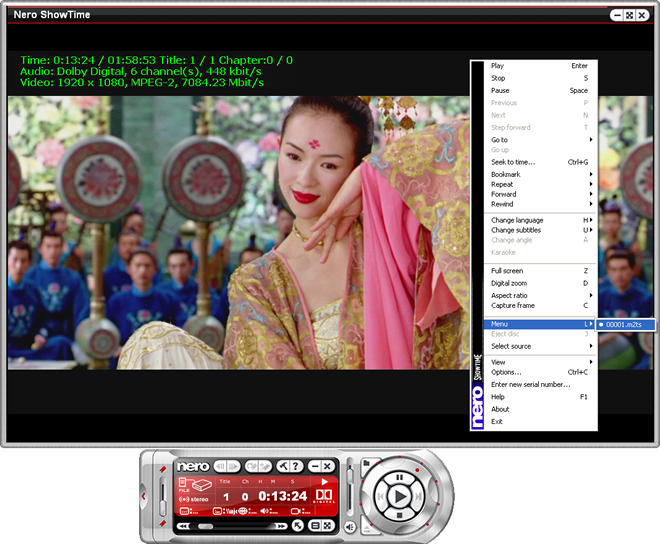 So now you have a backup copy of your blu-ray disc on your HDD.
B) Backup to your BD-R or BD-RE disc
Copy all of the files out of the original BDMV directory on the BD-ROM disc except for the "STREAM" directory.

Create a new "STREAM" directory inside the BDMV directory on your harddrive.

Place your ripped M2TS files inside this new STREAM directory.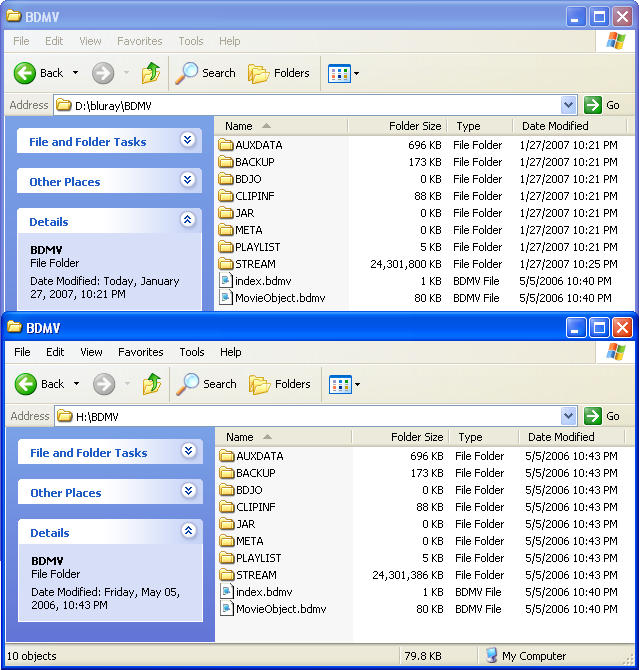 Burn your entire BDMV directory to a blank BD-R or BD-RE disc using the newest version of Nero or ImgBurn.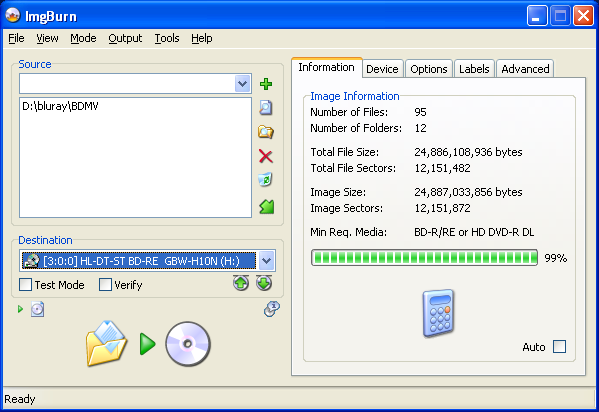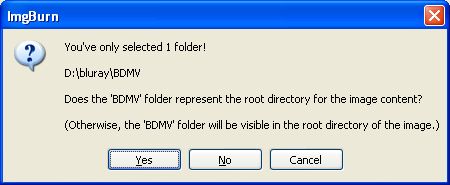 If the above window appears, click No, and wait until the burn finished.
You should be able to playback the disc using WinDVD 7 EX, PowerDVD 6.6 BD, or your standalone Blu-ray player.
0o0