*If you want to download AnyDVD and/or CloneDVD:
AnyDVD and CloneDVD are developed by Slysoft. Visit their website and download AnyDVD now: Slysoft Website
CloneDVD2/AnyDVD Guide by MadBob Updated after Tsurani made me by posting changes damn not more work!
Note DO NOT purchase Clone DVD http://***.clonedvd.net as it is a RIP off of the CloneDVD/CloneDVD2 trademarked name and you are being sold poorly supported software, if you have been unfortunate enough to purchase this, get you credit card company to refund you and buy the REAL CloneDVD2.
OK after a bit of prompting by FutureProof I have decided to write a Tutorial based around using AnyDVD along with CloneDVD2, I am writing this Tutorial to help anyone who is not familiar with the usage of these programs, and while CloneDVD2 claims to be a One Click solution perfect for Newbies, I can assure you from personal experience this depends on the newbie
AnyDVD - CloneDVD2 by MadBob - started 07-07-2003 last update 23-04-2006 (NOTE: Images in this Tutorial may be from different revisions but the info is still valid)
What you will need:
[li]CloneDVD2: The latest product form Elaborate bytes or SlySoft they are the same software so don't worry. [/li][li]AnyDVD: This clever little piece of Software will De-Encrypt a DVD on the fly allowing you to Copy your own personal store bought DVD onto your PC, Remove Macrovision and RCE, it will also allow you to Play DVDs purchased over the internet that are designed to play only in the original sale region. [/li][li]Note: AnyDVD has a problem with Matshita (Panasonic) xx-8xxx series drives, but so does a lot of the Decoding software out there. [/li][li]A DVD reader. [/li][li]Optional a DVD Writer. (you can use Daemon Tools to create a virtual drive) [/li][li]

Addition 26-08-2003:

AnyDVD now supports Windows 95/98/SE/ME/2000/XP [/li][li]

Addition 22-04-2006:

AnyDVD and CloneDVD2 drivers also support XP 64bit.[/li][li]The AnyDVD software is necessary to allow CloneDVD to backup the content of most of the DVD Movies on the market today, CloneDVD for legal reasons cannot copy CSS protected DVDs, however you can read the DVD to your hard drive using one of the following Freeware programs, DVD Shrink or DVD Decrypter, but by using these free programs you are one further step away from achieving the ideal of a Finished copy of your original DVD (IE: you will still then need to run CloneDVD to Transcode / ReMux or Burn)
Installation
Install AnyDVD and CloneDVD and reboot your system (this is critical) neither of these programs are difficult to install.
Configuration
After you have restarted your PC you can run AnyDVD (after waiting a short while for the nag screen to allow you to continue) it will load into the System Tray as a Fox Head Icon, if you place your cursor over the icon it will display the Revision of AnyDVD and how the devices are being handled [On: Off: Empty:] (Note! If the Icon is gray AnyDVD is deactivated, if it is Red it is Activated)
On - How many devices are being masked to inform Windows that they are being played in the correct Region.
Off - How many devices are not being watched by AnyDVD, Not too sure why this option is here, unless at a later date you can select which devices to watch and which to ignore. If you turn AnyDVD off then this will say Off: X where X = number of DVD devices you have currently on your system,
Empty - How many Devices currently have no media inserted.
If you have 3 devices with one DVD inserted then it should read [On: 1, Off: 0, Empty: 2] and it should be noted that a Virtual (Daemon Tools) device will be recognized as hardware,
Now if at this point we right click on the Fox Icon this popup menu will appear,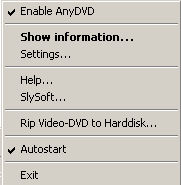 It has the following functionality:
[li]Enable AnyDVD - where you can Activate / Deactivate AnyDVD whilst still leaving it ready to run. [/li][li]Show information - Shows info about the DVD Discs in the drives AnyDVD is filtering. [/li][li]Settings - Configuration options. [/li][li]Help - Html help file. [/li][li]SlySoft - Hyperlink straight to the AnyDVD Website. [/li][li]RIP Video-DVD to Harddisk - Used when you are having problems ripping the normal way. [/li][li]Autostart - Start-up when Windows starts. [/li][li]Exit - err take a wild guess!
Addition 22-04-2006: The Settings pages now have right click tooltip help, simply right click the area you need more information about, and a tooltip pops up with an explanation.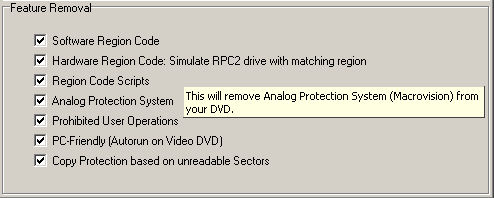 Addition 22-04-2006: Left click now opens the Show Information Page and you can click Settings to get to the Settings page, or you can select Settings from the right click menu and the following dialog pops up: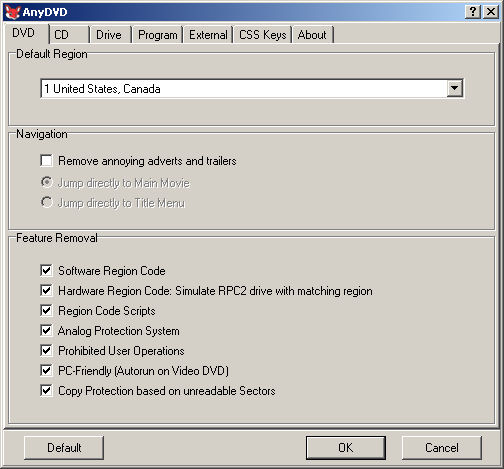 The DVD Tab is broken down into two areas,
Default Region, this is normally not necessary and is only there to force a DVD to accept a specific region if it is being particularly awkward, you can leave this section alone, if you need to alter it you will probably know,
Additional Note 23-07-2003: I have actually come across this now on a Pioneer DVD-ROM, it didn't give an error but the disc wasn't spinning / reading normally, CloneDVD showed "%Path%/VIDEO_TS.ifo:2 unable to open file" (manually opening the drive through My Computer gave the message no disc in drive) and the AnyDVD icon did not change briefly to grey and then back to red to show it had unlocked the disc, all I needed to do was change the 'Default Region Code' in the list above to the specific DVD Region that the disc was intended to play in, and the problem went away
Addition 22-04-2006: Newer feature descriptions added
Feature Removal, these options are checked to remove the functionality if available in the DVD Movie,
[li]Software Region Code: (RCE) some disks have an extra protection to ensure they are not played on non region specific hardware. [/li][li]Hardware Region Code - Simulates a NON Region free (RPC2) Drive with matching region to fool checks. [/li][li]Region Code Scripts: This is a script that tells the DVD what region it should be in, even when you have removed RCE. [/li][li]Analog Protection System: (Macrovision) there to stop direct recording of the output signal. [/li][li]Prohibited User Operation: stops you bypassing the FBI warnings etc, making you wait until the Root Menu comes up before you can continue. [/li][li]PC-Friendly (Autorun on Video DVD): Disables autorun on Video DVDs. And only on Video DVDs. [/li][li]Copy Protection based on Unreadable Sectors - Used for removing ARccOS type protection.
Take R1 Alien 4 for example: Although this disc is clearly R1, it has such a script. This usually isn't a problem, as AnyDVD will automatically set your drive/computer region to 1. But now you make a copy with CloneDVD. This copy is region free, and you have accidentally created a RCE disc now! The script is still there, but DVD-Players and AnyDVD can't sense anymore, that they need to set Player Region 1.
The new Feature removal of 'Region Code Scripts' will take care of this. The script will be eliminated.[/I]
Additional Note 07-09-2003: [I]'PC-Friendly' this feature disables autorun on Video DVDs. And only on Video DVDs, so it is different than when you disable autorun in Windows.
If a Video DVD is autorun enabled (autorun.inf in the root of the DVD) this file will be changed, so that the web browser, the "PC-Friendly" program or whatever disturbing thing there might be … is not executed. Instead, the program you have elected to run when you insert a Video DVD will run (PowerDVD, WinDVD, Zoom Player, whatever).
This is a KILLER feature, because I hate all these Setup programs that start, if I only want to watch a movie…
Note, that if the inserted media has no Video Data (e.g., a computer game) autorun will not be altered.[/I]
As I said checking these items bypasses the protection of each option.
Also AnyDVD will allow your RPC2 Drive (Region Protected) to behave as if it were an RPC1 Drive (Region Free) this means that other Applications such as WinDVD / PowerDVD will let you play imported DVDs on your PC.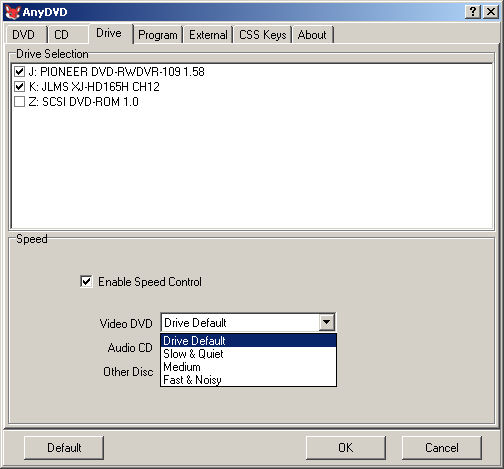 The Drive Tab - as you can see from the image above I have three DVD Drives, I can select which ones AnyDVD should apply its settings to, I choose to NOT apply AnyDVD to my Pioneer Writer as I don't use this as a DVD reader, this may help people who have had problems writing certain DVDs even though they had no trouble reading them.
Addition 29-09-2003:
There is now a Drive Speed Control which gives the following options
[li]Default - The default speed settings of your drive [/li][li]Slow & Quiet - Good for watching movies [/li][li]Medium - Compromise between speed & noise [/li][li]Fast & Noisy - Fastest your drive can handle
The Program Tab - where the Language AnyDVD runs in can be set, particularly useful if different from the Default Windows Language settings,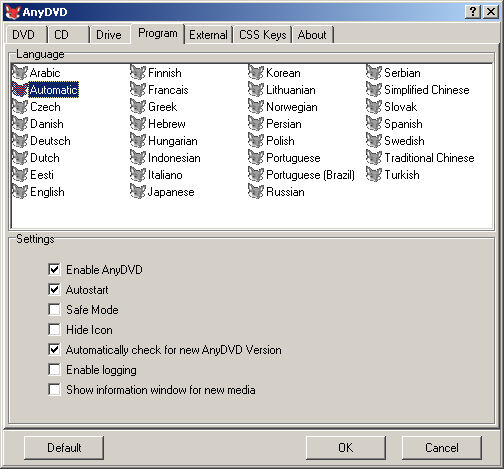 The Safe Mode checkbox has been moved to this page,
[li]Enable AnyDVD - Turn filtering on. (unckeck to turn off) [/li][li]Autostart - Starts when the computer boots up [/li][li]Safe Mode - Compatibility mode for some applications, You only have to use it if you have problems. [/li][li]Note that InterVideo DVDCopy and Pinacle Instant Copy may not work if Safe Mode is switched on. [/li][li]Hide Icon - Hides the Tray Icon, not recommended as the Fox provides visual feedback on the functioning of AnyDVD. [/li][li]Automatically check for new AnyDVD Version - Check if there is a new release each time you startup. [/li][li]Enable logging - Only enable this if you are sending a bug report to Slysoft or if you find a movie that it can't back up [/li][li]Show information window for new media - when new media is inserted the information window pops up. [/li][li]There is also a Default Button which sets AnyDVD back to its installation defaults.
[li]Share a protected DVD in a local Network [/li][li]Copy files from protected DVD via Explorer [/li][li]Copy files from protected DVD via Command Prompt (Xcopy) [/li][li]Copy files from protected DVD with any program you like, e.g. Windows Commander!
AnyDVD can now be configured to Remove CD Digital Audio Protection should it be found on the Disc.
Note: This feature doesn't work with all Audio Protections and / or Drives.
[ul][li]This option allows you to Play, Copy and Rip Protected Audio CDs. [/li][li]It caches the TOC (Table Of Contents) of the media, then if AnyDVD detects an Audio CD it will modify the TOC to represent a valid Red Book Audio CD. [/li][li]Illegal Start and Stop Timings are corrected and additional sessions deleted. [/li][li]If the player software or Operating System requests the TOC it will get the Cached TOC from AnyDVD. [/li][li]If this feature is enabled, Multimedia Content on Audio CDs will not be visible. [/ul]Addition 18-11-2003: [/li]You can run an External Program when a DVD is Inserted or Removed, if it is PAL or NTSC Specific. or if it is a Disc of a type other than a DVD Disc.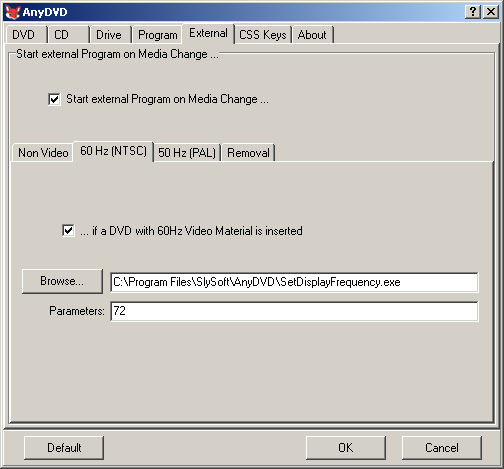 [li]Option to start an external program on disc insertion of non-Video material. [/li][li]Option to start an external program if material has 60 Hz refresh rate (NTSC) [/li][li]Option to start an external program if material has 50 Hz refresh rate (PAL) [/li][li]Option to start an external program on disc removal. [/li][li]The above options are useful to adjust the screen refresh rate to the inserted media contents. [/li][li]Utility "SetDisplayFrequency" to set and reset the refresh rate of your monitor or beamer. [/li][li]External tools like MultiRes or PowerStrip can be used as well.
Used when you are having problems with a badly authored DVD
RIP Video-DVD to Harddisk adjusts your DVD files for better DVD compliance, so they can be opened in CloneDVD2.
It adjust as little information as possible in the VOB and IFO files to allow opening in other apps while keeping the DVD as similar as the original as possible. You would use this if an authoring tool messed up your DVD and the result can no longer be used.
This can also happen with DVDs that have been deliberately authored containing errors in the IFO or VOB files. The DVD still plays on your standalone player but won't open in any DVD editing tools.
It can also remove unreferenced cells (i.e. cells that are in the vob files, but never played back, according to the IFO file). it also fixes blank packs that are sometimes introduces by DVD rippers when they encounter unreadable sectors. These blank packs can either be removed, or replaced by compliant "stuffing packs".
If you right click on the Fox tray icon and select RIP Video-DVD to Harddisk another window will open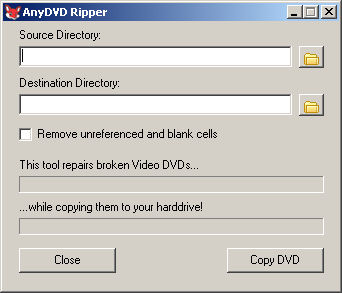 What you now need to do is select the Source Directory IE: where you are ripping from, usually the VIDEO_TS folder on the DVD you have in the drive. then select the Destination Directory IE: where you want to save the files on your computer.
Afterwards you would open CloneDVD2 and point it at the files on your Harddrive to transcode and create the DVD.
OK you have enough information now to configure and use AnyDVD. We can insert a DVD to read from and run CloneDVD2.
CloneDVD2
Addition 06-10-2003: CloneDVD2 2.x.x.x onwards
[li]Now takes the Default volume label from the DVD being read. [/li][li]No longer replaces ripped out menu options with a Grey Screen that plays as long as the ripped out object did, it now removes the ripped out object completely. [/li][li]Support for adjusting preferred writing speed.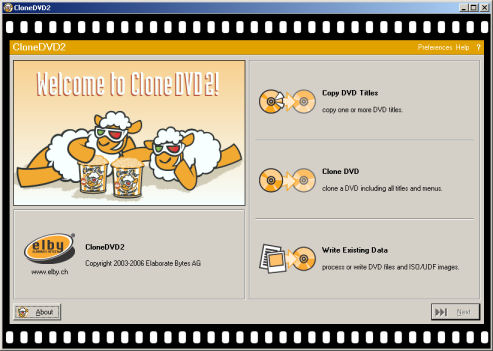 There are three main buttons to the right, which need further explanation, and a small (top right) Help button,
Copy DVD Titles: Use this option when you want to copy just the Movie,
[li]Generally the largest Title with the most number of chapters, [/li][li]You will be able to select which Audio Streams and Subtitles to keep, [/li][li]CloneDVD will fit the Content (Single Movie Stream) onto one DVD Recordable,
[li]Especially useful when you are creating a backup of a Series DVD (EG: Friends, Simpsons etc.) [/li][li]CloneDVD will fit the Content (The Entire DVD) onto one DVD Recordable,
[li]You have already used DVD Shrink or similar to create a selection small enough to fit onto a DVD, [/li][li]You are copying from an already Processed DVD, [/li][li]You have a pre made ISO/UDF ready for burning, [/li][li]You know that the original DVD is already small enough to fit onto a DVD Recordable,
Top Button Copy DVD Titles: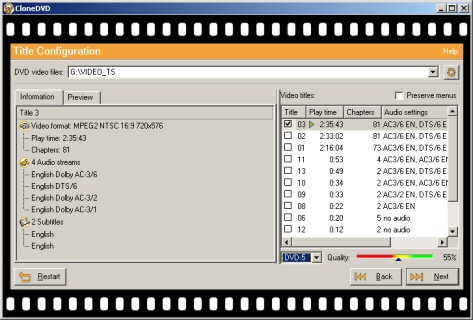 You first must select the Path to the Folder that the DVD VOB (movie) files are stored in, usually VIDEO_TS especially if still on the original DVD, this is done from the dropdown box or using the Browse button,
or by typing the path if you know it.
In the above image you can see there are thirteen available Movie Streams, Clone will select the largest for you, but if you have any doubt you can highlight each stream individually and click on the preview tab, this will let you view the content, however be aware that sometimes the directors commentary stream will be the longest.
Additional Note 08-02-2004: you must right click the preview window and select a playing speed to see the preview.
There is also a Compress-O-Meter (above the Back, Next Buttons) with a colour band ranging from Red through Yellow to Green, this shows graphically how much compression is being applied to the DVD to make it fit on the DVD-+R/RW, with Red being the worst Quality and Green being the best, it is more likely you will start to notice a difference in Quality once you get into the Red zone, in the above image you can see that no Compression is being applied to the Movie backup, meaning excellent quality.
Additional Note 08-02-2004: There is now a dropdown menu available next to the Compress-O-Meter, you can see it in the image above, it will allow you to select a custom size to fit the movie into, this can be particularly useful if your DVD player has a problem with the movie when the DVD is full, to activate this menu simply place your mouse over the word DVD-5, once you select custom you will see the layout change to the following and can select the output size you require.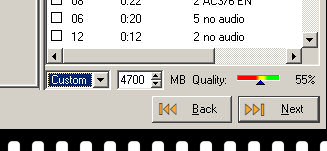 Additional Note 20-07-2003: (Beware Planet of the apes)
CloneDVD always picks the largest series of VOBs (most chapters / longest time) for the main movie, on Planet of the Apes (EAN 5 039036 008167 2 disc special edition) there are two large movie streams, unfortunately the largest (by 14 seconds and numbered track 02) is the directors comments overlay of the movie, which you really do not want to back-up, so keep your eyes open for this happening on other movies!
Note: Preserve Menus top right is unchecked; this removes all the menus, which you have no need for when burning only the Movie to disc,
Click Next to go to the Audio and Subtitle selection frame,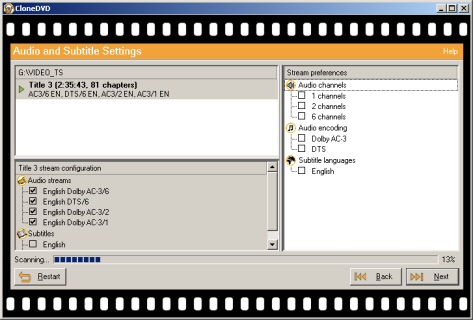 Additional Note 08-02-2004: At this point CloneDVD will now scan the audio stream to enable a more accurate visualisation of the Compression changes if you select alternative audio content.
Again CloneDVD will try to intelligently select the correct Audio and Subtitles for your Windows Region, but you can deselect or select any that you please if you don't agree with the choice, I generally select the English Streams and Subs as I cannot read / understand any other language (well what do you expect I am British!) however I have found for example on Crouching Tiger Hidden Dragon I need to also select the Chinese Audio or I get no English Audio.
Additional Note 08-02-2004: The Audio and Subtitles frame is now split into three windows, the top left window is all the Titles you have selected, the right window gives you an overall selection option for all these Titles, the bottom left window allows you to individually select different options for each Title, these will then show the effect in the Compress-O-Meter scale.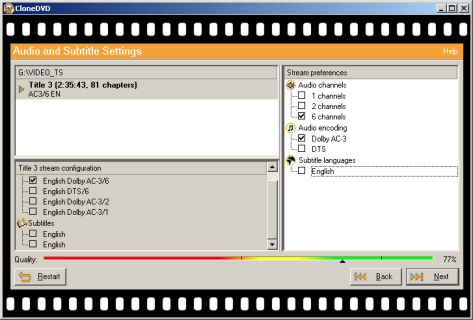 Click Next to go to the Output Method Frame,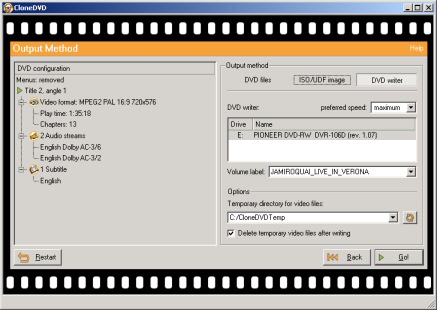 This frame allows you to select the whether to Save as DVD Files on your Hard Drive, Save as an ISO/UDF or Burn to DVD, and select the Volume Label if you don't want the default one (either the existing one or VIDEO_DVD)
[li]DVD Files allows you to watch the Movie from your Hard Drive using PowerDVD or similar, or Burn from Hard Drive at a later time (using the bottom one of the three main frame buttons) [/li][li]ISO/UDF allows you to load an ISO into your Virtual DVD Drive (Daemon Tools) to check it has created the DVD properly, saves blowing a DVD Blank, [/li][li]DVD Writer sends the created files straight to your Burner,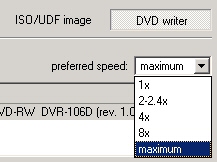 There is also a right click help system, which expands the information on a given section,

You might have decided to copy the whole DVD and if so you started at the middle button,
Middle Button Clone DVD: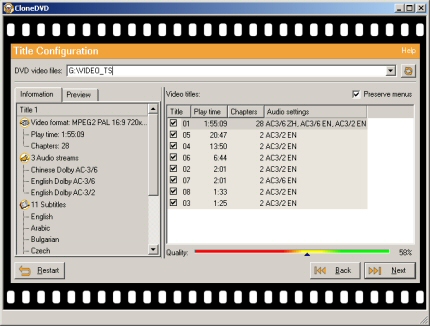 Note! The Preserve Menu box is checked for this option, as we intend to copy all the movie content (including the extras) from the DVD, and you can see that the Compress-O-Meter is at 58% this shows that the quality will be not as good as the earlier burn.
Select Next to go to the next Frame,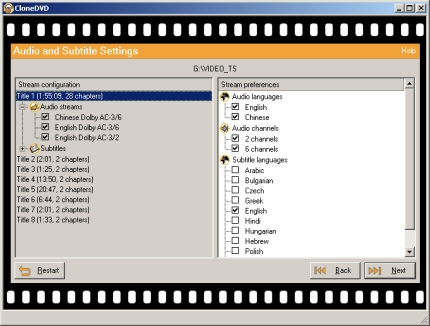 This Frame whilst looking similar to the one from the Previous (Top) Button Selection, has the difference that it has more than one Title in the left hand pane (Title 2 and Title 3 etc.) these are the Extras,
You can however still deselect the Audio content and Subtitles that you do not require this will help to keep the Movie and Extras to the best possible Quality,
Click to go onto the Next Frame,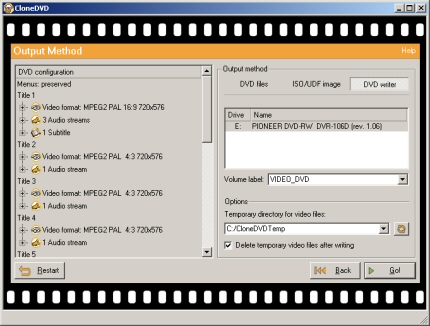 Again at this Frame you select where you want the content to go to, Hard Drive ISO/UDF or DVD Writer, and select the Volume label,
[li]DVD Files allows you to watch the Movie from your Hard Drive using PowerDVD or similar, or Burn from Hard Drive at a later time (using the bottom one of the three main frame buttons) [/li][li]ISO/UDF allows you to load an ISO into your Virtual DVD Drive (Daemon Tools) to check it has created the DVD properly, saves blowing a DVD Blank, [/li][li]DVD Writer sends the created files straight to your Burner,
Used to Copy Pre-Mastered Content or a DVD if you know it will fit your DVD-+R/RW disc, there will be no pre-processing done on this content so make sure it will fit.
Write Existing Data: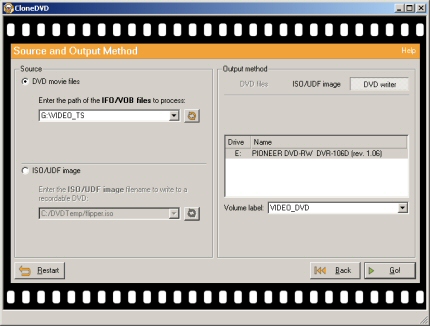 Here we select the DVD Movie files: and either creates an ISO/UDF image file or send to the DVD Writer, remember this content must be able to fit the Blank DVD Disc as there will be no pre processing done at all, the DVD Movie Files can be the VIDEO_TS folder of an already Created Backup DVD or a mounted ISO in Daemon Tools,
Or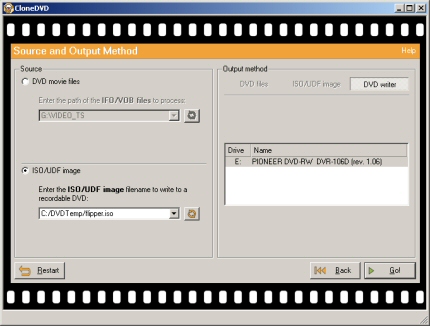 We select a pre created ISO/UDF Image and send to the DVD Writer.
Final Actions
Depending on which of the original three options you decided on, The Final Frames in CloneDVD2 are for Writing to recordable DVD, content is Transcoded / ReMuxed to Temp Folder before writing,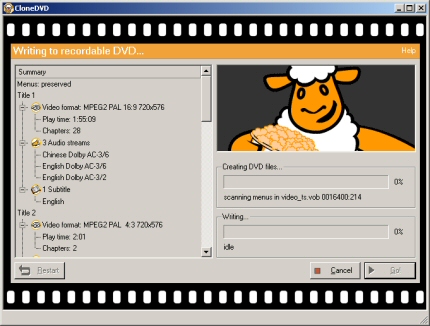 Or creating an ISO/UDF Image, where the content is Transcoded / ReMuxed to Temp Folder and then built into an ISO/UDF Image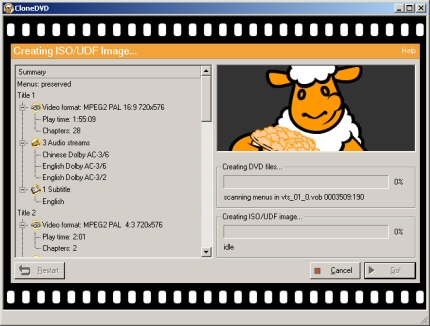 Or the files are Transcoded / ReMuxed to a pre-selected Folder ready for you to make an ISO/UDF or Burn at a later date.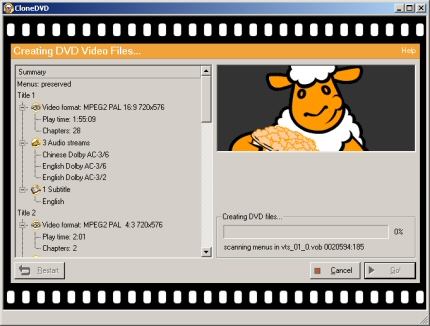 I hope I didn't miss anything out in the Tutorial but I am getting very tired after all this thinking
MadBob
P.S. please don't pester G@M3FR3@K, If there are any errors in this Tutorial you can find me on the CloneDVD or AnyDVD forum and let me know.