I haved burned about 300 DVD's with my Benq 1620 (retail). Then suddenly, about half way through a 100 pack (which I got through Amazon), I started getting 0 on the disc quality check with cd speed, some major PO Failures. I looked at the disc and there are blotches as shown below. I am not sure what to call these. It looks like there are parts of the disc that just weren't burned to.
Here's the first disc this happened on (3 diff views):
Then it happened again on a second disc:
Finally, check this cd speed scan out for this third disc (no blotches seen on disc):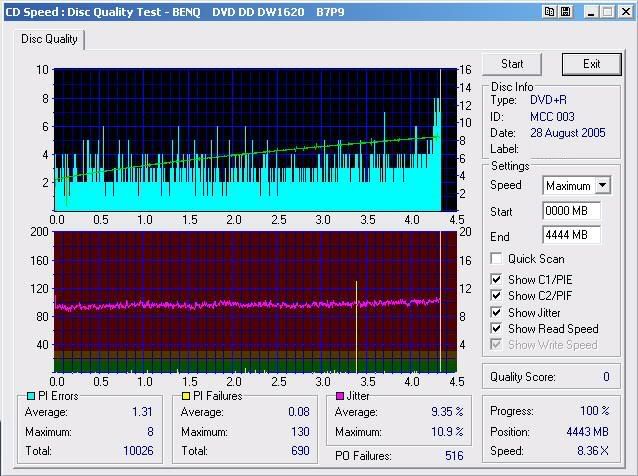 So what do I do? Has anyone seen this before? Is it that I am running into some bad discs? Is the drive going?
By the way, there were about 20-30 spikes above 100 for the first two discs…the last one just has that one big spike.
Oh yeah…as you can tell from the scan, I have Verbatim MC003 (8x)
These work the best on mine…usually 97 to 98 quality. never had a problem before. That last disk was looking almost flawless until that one spike.