I have recently had two bad burns on a DVD-R Taiyo-Yuden premium disc, and the resulting disc looks like this: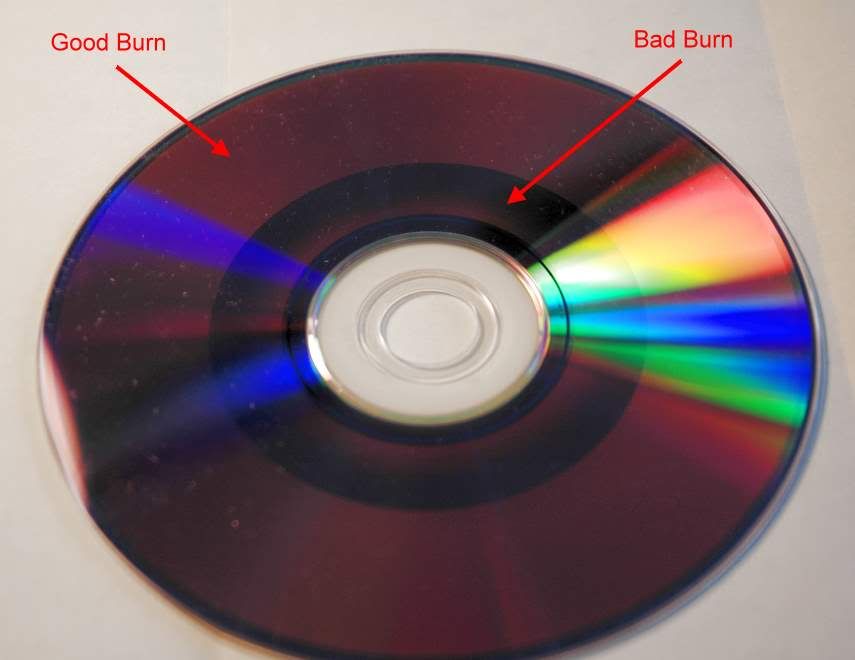 (the disc in this image was sent back from a client in an unpadded envelope, so it is scratched and dirty).
The two bad discs appear to have been burned correctly at the beginning of the burn. Thus, they will play the menus. However, as you can visually tell from the picture, it then appears that something shut down the burn for a long period of time (see the large dark, inner ring labeled "bad burn"). Following this bad section, the burn resumed, and the outer part of the disc was burned normally. The video on this outer part of the disc can be played.
I am running Windows XP Pro, SP3; Lite-On iHAP422 (no firmware upgrades were ever issued for this drive); Taiyo-Yuden (Manufacturer ID: TYG02) DVD-R purchased from Meritline. I have a very clean computer with no background processes or anti-virus software running, so I don't think that any background process is interrupting the burn, although I am open to any ideas along those lines. And no, I don't have any viruses on this computer.
The burn was done with Nero 6.6.1.15.
I have tested several dozen of the other discs done with this batch of media, and DVD Speed gives me really good test numbers.
I am an infrequent poster in this forum, so I hope I have posted this in the right place. I tried to search this forum and elsewhere on the Internet, but couldn't find any mention of failures where the drive apparently shuts down in the middle of the burn, and then resumes the burn. It is almost as if the DVD writer were put into simulation mode for part of the burn.
Thanks in advance for any help!