Update
January 2009. The original guide was made in 2007 where there were only limited tools and software available for us to backup Blu-ray to DVD. Currently there are more tools available that can replace software used in this original BD2DVD guide, namely TSMuxer and BD Rebuilder. We will update this article when time permits.
Original BD2DVD Guide
This guide illustrates how to make a backup of your Blu-ray content using DVD media as storage, in four easy steps. The resulting DVD disc (Single Layer or Double Layer) is playable on standalone Blu-ray players or PS3. Since there is no encoding, the picture and audio are kept in original high definition quality.
Programs needed:
[ul]
[li]TsRemux (by dmz01): to remux/demux transport stream files, trim unneeded streams (audio or subtitle) and much more
[/li][li]HDBDSplitGUI: to split the resulting movies into multiple DVDs
[/li][li]ImgBurn 2.4.0.0 or Nero Burning ROM: to burn the DVDs into UDF 2.50/2.60 format[/ul]Note: Transport stream (TS) is a communication protocol for audio, video and data as specified in MPEG-2 standard.
[/li]
The BD2DVD Guide:
The source files can be from your High Definition (Blu-ray) Camcorder, Satellite/Cable/Over-The-Air/Fiber Optic HD broadcasts, or other Blu-ray content. You will need to transfer or rip them first to your hard drive for faster processing.
Run TsRemux (v.0.0.18 or higher). Load a transport stream M2TS or MPEG-2 file and TsRemux will show all elementary streams found. Click on the streams you want to keep, in this guide we chose AVC Video Stream

#17

, Lossless PCM Audio Stream

#1

and the subtitles Presentation Graphic Stream

#1

(See Note below). Select "M2TS (192 byte packets)" checkbox and "Use async I/O" for maximum throughput. Click on Remux to start the process.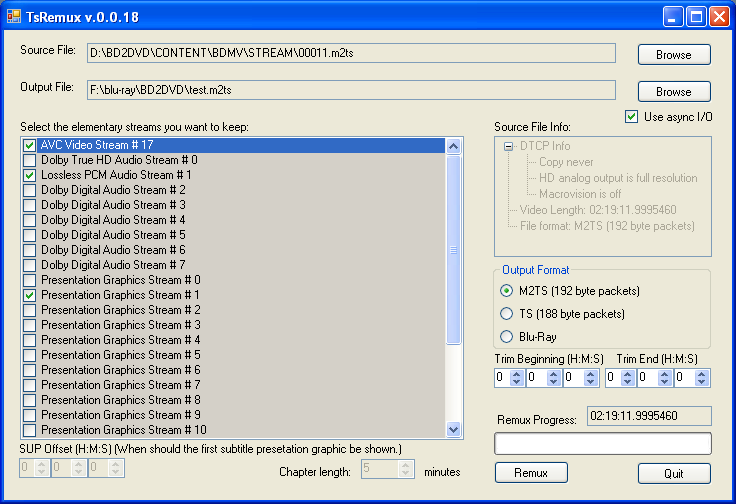 Note: since TsRemux does not show the audio language (English, Spanish etc) in the Dolby Digital list, in order to get the correct one you can "right click" on a Dolby Digital stream and a pop op will appear. Choose "Demux Dolby Digital Audio Stream #x to elementary stream", playback and check the resulting AC3 if it's the one you want.

Now we will use HDBDSplitGUI to split the new MT2S file into several DVD. Load the new MT2S file in HDBDSplitGUI and enter the Split size. For DVD Single Layer: 4400 MB should be good. For DVD DL: 8050 – 8100MB. In the Destination Folder: enter the folder name you want to save the result, then click Split. The program will create new M2TS files (part0001.m2ts, part0002.m2ts, … part00xx.m2ts)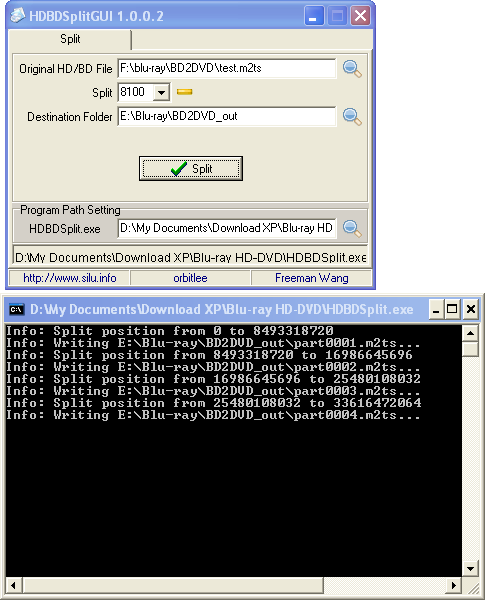 Here is the result in Explorer:

Now we will need to generate Blu-ray disc structure from those new M2TS files by using TsRemux again. Load part0001.m2ts and enter the folder name in the Output File. Select all elementary streams and check "Blu-ray" output format.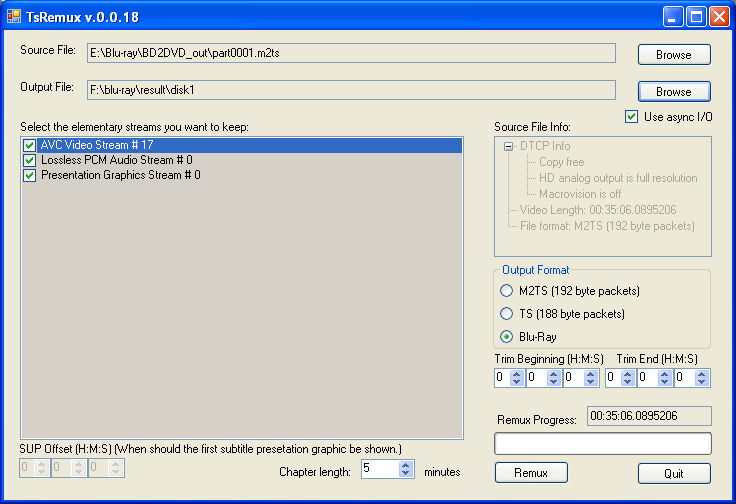 The new result is a Blu-ray structure that fits into DVD. Repeat step# 3 for all other part000x.m2ts files.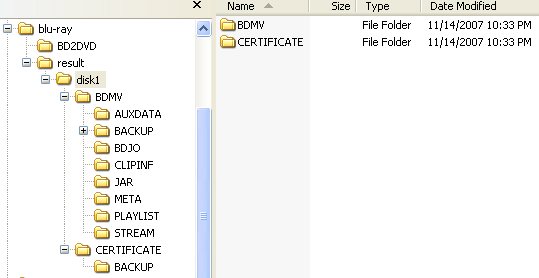 The last step is to burn using ImgBurn (2.4.0.0 or higher) or Nero Burning ROM, use UDF 2.50 for playback compatibility. Reports states that UDF 2.60 also works.
In ImgBurn, choose Build Mode, drag the BDMV and CERTIFICATE folders and select Options UDF 2.50. Select Device as output, insert a blank DVD SL or DL and burn the Blu-ray files with your favorite DVD burner.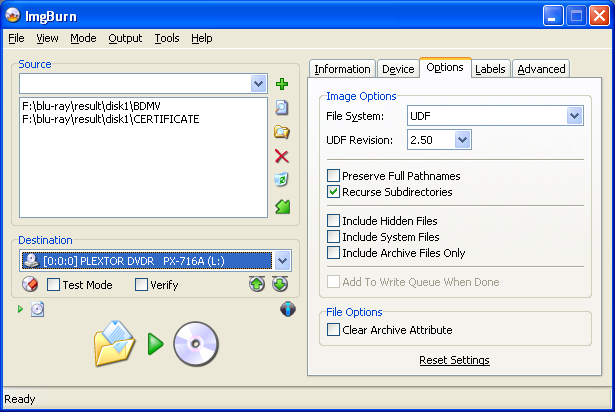 If you use Nero Burning ROM, drag BDMV and CERTIFICATE folders, select DVD-ROM (UDF) and choose Physical Partition UDF 2.50. Insert a blank DVD SL or DL and burn the Blu-ray files with your favorite DVD burner.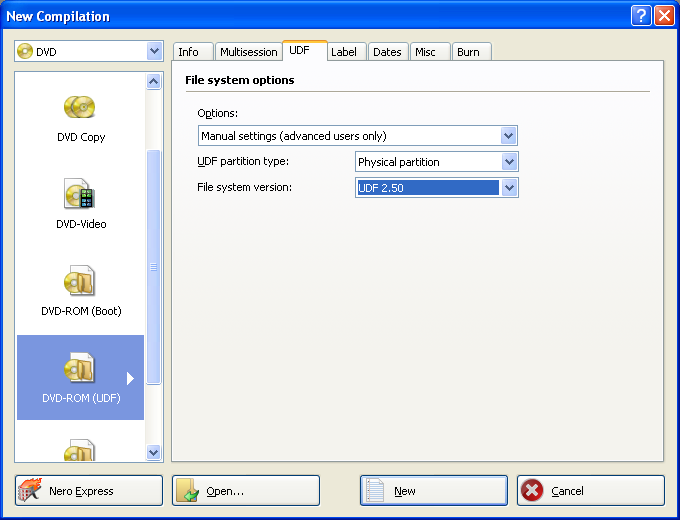 Lastly, insert the burned DVD disc in your Blu-ray player or PS3. In PS3 the disc is recognized as AVCHD DVD-ROM.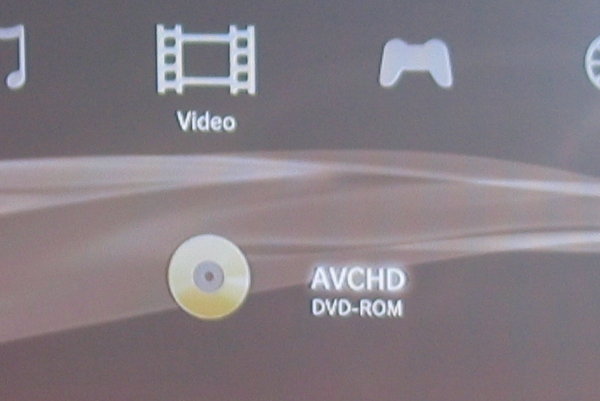 Enjoy the high definition Blu-ray content on DVD…
Added:
Found some M2TS file on the net to play around:
[ul][li]Cars: AVC (1080p), lossless PCM audio, Dolby Digital, subtitles. (228MB, 1 minute)
[/li][li]Planet Earth trailer: AVC (1080p), Dolby Digital. (112MB, 1 minute).[/ul]
[/li]
Some more example:
[ul][li]Cars: AVC (1080p), Dolby Digital 5.1, English subtitle. (100MB, 37 secs). This is an ISO so burn directly using ImgBurn.
[/li][/ul]
~~ oOo ~~