Hello all,
I am using DVD2SVCD v1.2.2 build 1 (in AVI2SVCD mode) and Cinema Craft Encoder SP v2.50. I used ScenalyzerLive to capture some tv shows off of my vhs to get huge DV avi's (type2), they are about 9GB-10GB each. I do not have a DVD burner so plan to just make a CVD or half-d1 dvd to burn to CD-Rs (352x480 48000Hz 224kbps Stereo), until one day I can transfer them to DVD's.
Well, after taking small segments and experimenting with sooo many de-noising filters (to remove grain) I got it figured out to use Convolution3d and PeachSmoother filters. So I was like hooray time to encode the whole 9GB file! And 9 hours later, I get a really nice mpg video, but the audio – horrible !! It is like a repeating crackling sound. I found one other thread on the internet who had same problem, but no solution here.
Here is the file info from VirtualDubMod: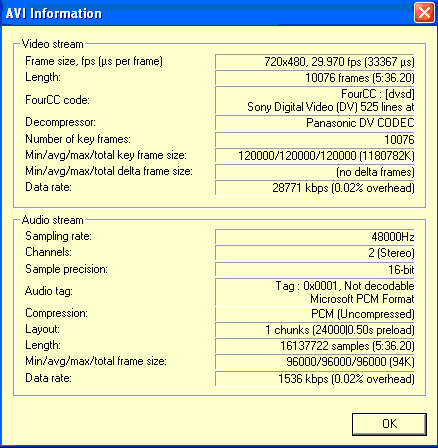 My test files (small segments of the original) work fine, but when I try encoding the whole file, the Extracted_audio_1.wav is unplayable in the media player (does not work). I tried my other DV avi files and the same results! Curiously all the extracted wavs for the different avi's were the same: 87.7MB – I don't think it's extracting all of it, because my smaller files worked fine…
I am stuck. I want to use DVD2SVCD because it'll automate everything, I can just hit go, paste my avisynth script in, and walk away. Another problem I had was when I used the Trim() command in my script, in my test files, the video would be cut but not the audio! I gave up on that, and decided to cut commercials later in the mpg file, but now I have this audio problem and can't even get to that yet. Any suggestions or ideas are appreciated! Thank you for reading.