How To Create MP3 Audio Files From DVDs
(if you're in a hurry, just read the bold and the Tips at the end.)
Many users have requested this ability in the "Features Request" thread for DVDFab and elsewhere in the forum. While this will probably become a DVDFab feature someday, for now we can make do with this simple procedure (or something else one of our fellow Fab users has figured out but not posted). There may be better ways to do this than what is presented here, but this is cheap (free, if you already have Platinum) and fast. In addition to DVDFab Platinum, you will need a program called Yamb (V1.6) that I found out about from Ting at Fengtao Software (THANKS!). It is freeware and can be downloaded here. (Choose the one that comes with the installer.) In addition to the function presented here, Yamb is a useful tool for examining the components of AVI files and will prove handy if you use the DVD to Mobile modes in DVDFab. Join me in thanking the author, Kurtnoise, for creating it and generously making it available.
First,
download and install Yamb. I've been using it for several months and it seems to be a clean download with no malware or other problems. Don't know about Vista compatibility.
Now,
prepare the files you want with DVDFab. First, decide whether you want individual MP3s or one of an entire concert/disc/soundtrack. The first example below is an "entire concert" MP3 using one of the PBS Doo-Wop specials. The second example illustrates making individual MP3s from two sources using Merge.
Entire Concert or Soundtrack
Load the original DVD and open DVDFab. After the disc is analyzed, choose "Generic" processing under DVD to Mobile and select the title from those presented. Click Next and then press the "Configure" button. Follow the steps illustrated in the screen capture:

[font=Tahoma]select a profile that provides MP3 audio; set the video size to the smallest available; select the audio bitrate you want in the output file; use the bitrate slider to select a low video bitrate; change the titles and Volume% if desired (150% seems to work better than the 100% shown here). Remember, the video will be discarded, the MP3 audio file is the only thing we'll keep for this project.
When the processing configuration is complete, click "OK" and then "Start" to process the title.

[font=Tahoma]MP3 Extraction
Close DVDFab when processing finishes. Now open Yamb and follow the steps below: 1) select the "Extract" tab (it should open there by default). 2) Press "Input" and use the supplied box to find your AVI file that DVDFab created earlier. 3) Check the "Extract" box and select AUDIO from the drop down menu. 4) Press "Extract" and stand back. The process took less than 1 minute on my machine for a 72 minute concert video.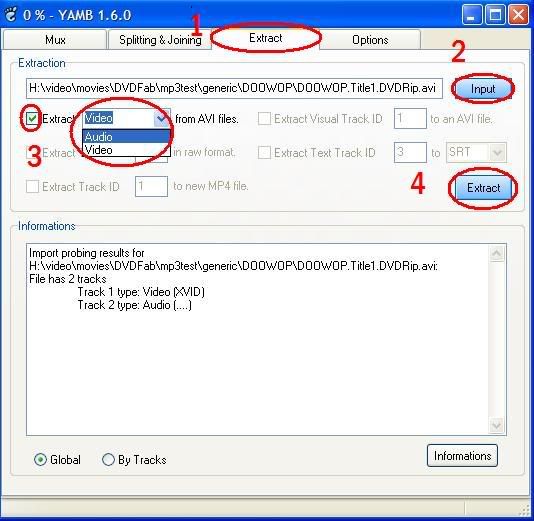 Done!
As shown here, Yamb will write the extracted MP3 file to the same folder location as the AVI file that was used for its input.
If you need a different file format for your player, there are many converters available. The "…_audio" in the filename is added by Yamb and can be removed and the title/filename completely changed if needed to suit the requirements or abilities of your player. Encoding the MP3 audio at 256 kbps produces a fairly large file as you can see, but it sounds great. If you are trying to conserve space in your player, set the audio bitrate lower with the drop down box on the Generic "Configure" screen in DVDFab.
Individual MP3 Files
This process takes a little longer, but you don't have to do all of them at once. You can either do each track individually or use the Merge feature to process the tracks as a group. Using Merge and the batch processing function in DVD to Mobile will let you start each process then go do something else while it finishes. Remember that if your original disc is a concert DVD, you will probably need to select the chapter(s) that correspond to the tracks you want to convert. They usually correspond to the numbers on the track list but not always. And see the note above about using the folder icon in Merge to allow you to use the DVD dissc as a source multiple times. I used Merge mode in this example but it will work processing one-by-one as well. Decide which tracks you want to convert and whether to use Merge or process one at a time, then open DVDFab in the mode that matches your approach. The order of processing makes no difference since we are creating individual files in this example. Here is the Merge screen for the first 5 tracks I used,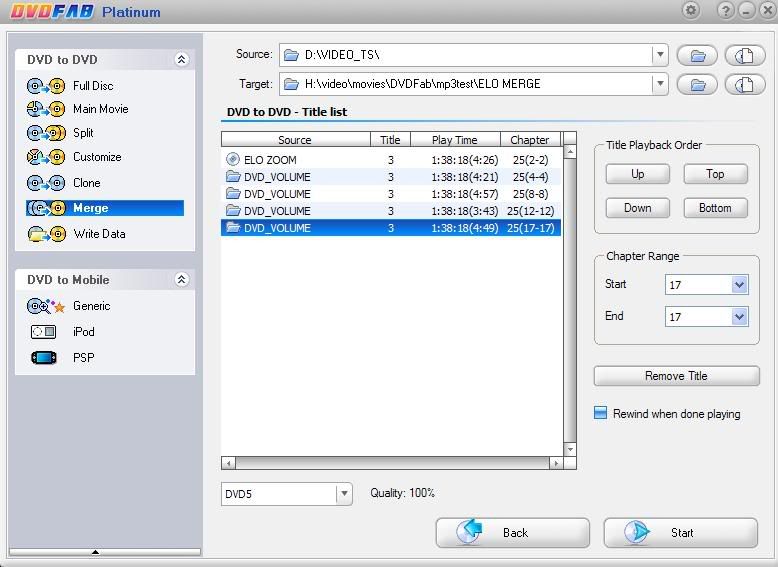 corresponding to chapters 2, 4, 8, 12 and 17 of the original DVD. I was surprised how well the chapter selection worked for this; it depends a lot on how well the marks were inserted on the original, but it is faster than setting begin and end points for each track using DVDShrink. To get DVDFab to reload the same DVD disc as a source multiple times (necessary to be able to select different chapters) it is necessary to use the folder icon, but navigate and open the disc's VIEDO_TS folder, not a HDD folder.
[font=Tahoma][font=Tahoma][font=Tahoma]Chapters from another source were added using Merge again and the resulting output file loaded for processing in Mobile-Generic mode.
The configuration screen used the same setting as in the "Entire Concert" example above, with the exception of the Volume, which I set at 150% and the audio bitrate, which I reduced to 128 kbps to see if I could hear any difference (I couldn't). Processing all 8 tracks finished without a problem and produced an AVI file for each individual title (Merge converted the Chapters to Titles). After processing with Yamb, here is the resulting file list,
[/font][/font][/font][/font]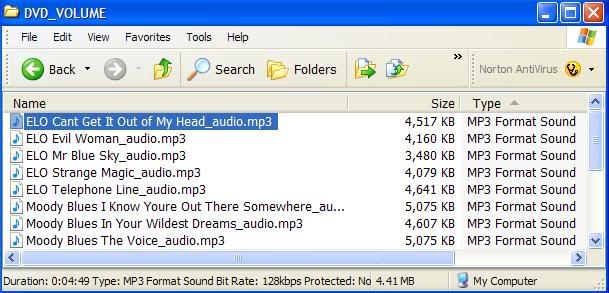 ready for whatever new home you desire. Note that 128 kbps produced more normal sized MP3s than the previous example.
Thoughts & Tips
This process worked well given that neither application was designed for the use to which it was put in this scheme. The most laborious part is configuring each title before batch processing in the DVD to Mobile mode. If you do much of this, it would be worth making a new Generic profile with the unusual configuration for this process preselected. Read some of GregRocket's posts on doing the same for cellphones.
The updated 64 source limit for Merge will let you process even more in one sitting. Ting's batch processing in DVD to Mobile worked flawlessly and really made the job easier.
The Yamb installer download is < 2MB
There are commercial software titles that will probably do this with less effort. (But, like Merge mode, it's easier than it reads, and if you've already got Platinum, it's free!)
Thanks again to Yamb's author Kurtnoise, and of course the same for Fengtao and Ting for producing in DVDFab Platinum such a versatile, feature-rich software application with which to experiment. Ting's helpful response to a PM question (and his work on the DVD to Mobile feature) made this all possible. I hope you enjoy using it. And thanks to this forum's moderator, alan1476, for help and advice with this and other projects, and to CD Freaks for providing DVDFab users with such a friendly, trouble free home on the web.
Updated through: DVDFab Platinum v.3.0.9.0b; Yamb v1.6