Hi guys,
I've been having major PC problems over the last week or so. My PC at first was getting BSODS, then moved on to just freezing up entirely when under full load, or close to full load. Games will freeze are around 5 minutes. 3D rendering will freeze after around 5 minutes too.
Anyway I've run several tests on my components. My RAM turned up 0 errors on Memtest86, my HDD's despite being years old having come back with 0 errors on multiple programs. I also reformatted both my HDD's which didn't fix the problems. I ran Prime95's torture test in "Small FFT" mdde to stress my CPU and Mobo and it crashed after about a minute. Now I'm fairly sure it's either my PSU, CPU or Motherboard at fault.
Anyway in terms of my PSU I'm wondering if these voltages are ok? My PSU is a 600w Solytech SL-8600EPS PSU.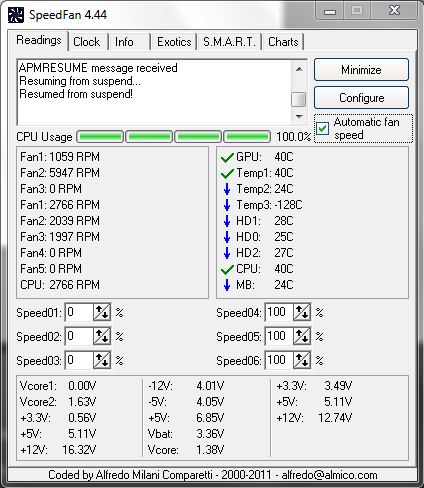 I'm slightly concerned about these voltages as the shown voltages don't seem to match up with their corresponding readings.
My PC Specs are:
Windows 7 Professional 64Bit
AMD Phenom II X4 955 3.2Ghz
Asus M4A79XTD EVO 790X Motherboard
Corsair 8GB DDR3 1333MHz RAM
Gigabyte Nvidia GTX470 1280MB GDDR5 Graphics Card
600w Solytech SL-8600EPS PSU
I really need to work out what needs replacing PSU, Mobo or CPU asap.
Thanks GREATLY for any help.