After searching for a while, I came upon an awesome tutorial to flash my drive. Obviously, before I did flash my Pioneer 111D to 111L I burned a disk to see how it went, it burned perfectly and without problems.
I proceeded to flashing my 111D to 111L the steps I took were these:
Download TDB 8.16* INT, TDB 8.26* INT, TDB 8.29* INT.

Rebooted my computer, went into safe-mode and installed 8.16

Rebooted, went back to safe-mode to install 8.26

Rebooted, went once again back to safe-mode to install 8.29

I returned back to normal windows and went to DVDInfoPro to check the information, to see if my flashing was a success.
I set my burner as master, for the first time. Since most people are saying they get better results whenever their Pioneer-111D is set to master. So anyways, I checked to see if it was running on UDMA4 but it was only set to UDMA2, so I found out it was my ribbon cable, switched it with a 80 Ribbon Cable and now it finally reads as UDMA4.
It all works fine
… Now comes the newbie question, is it normal that whenever I go to "My Computer" it sees the Pioneer drive as "DVD-RAM" instead of the more popular "DVD-ROM" name?
I know with 111L flashed to the Pioneer 111D you get added features, like Lightscribe, DVD-RAM capabalities and bitsetting, I personally did it for bitsetting on DVD+R. But I did a quick google up on DVD-RAM since I've never used anything with that name, and it seems that DVD-RAM burns better results, but is also less compatible with DVD-Players and such. Is this true?
Sorry for the long post, I just want to verify if I did everything correctly and if I lost any such capabilities that a Pio-111D would have.
Here are both the pictures:
Pioneer 111D: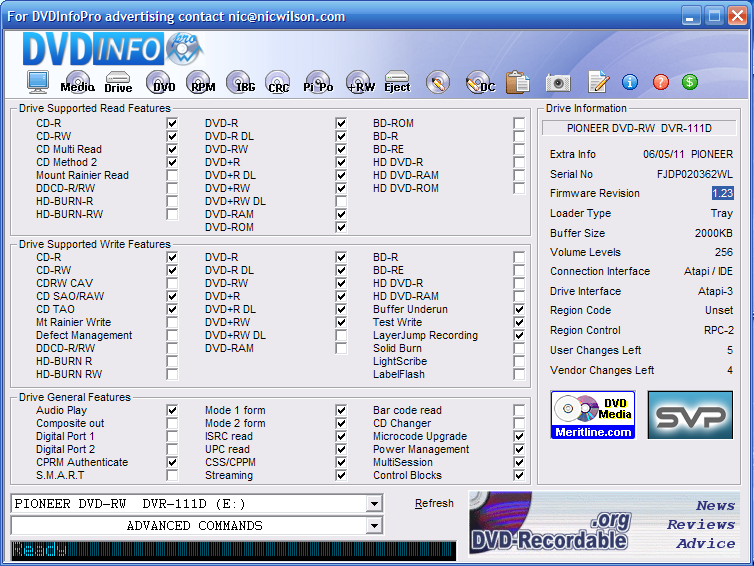 Pioneer crossflashed to 111L: