I realize that I'm the only fool who's playing with this drive around here. But I've found something very new with the way the 12x strats are working that we haven't seen on any other LiteOn AFAIK.
First a bit of background for those who are new to this. With previous drives, (and even the 1213S when using 4x-8x speeds) the respective write strategy is the same at each speed zone. What this means is that if you select 6x burn, the strat used for 6x is the same as the 6x zone when you burn at 8x.
With the 1213S, it appears that when you select 12x burn speed, all speed strats change. So when the drive starts at 6x, that zone is burned with a different strat than if you had selected 6x or 8x burn speed with the same strat.
This is very odd, and it means that any 12x strat must be individually customized in each speed zone. Or I am missing something.
Now for some visual evidence. First I'll post 2 scans, each are of TY T01 media burned at 8x and 12x using the default TS08 strat with nothing but speed mod.
[b]8x burn with stock strat: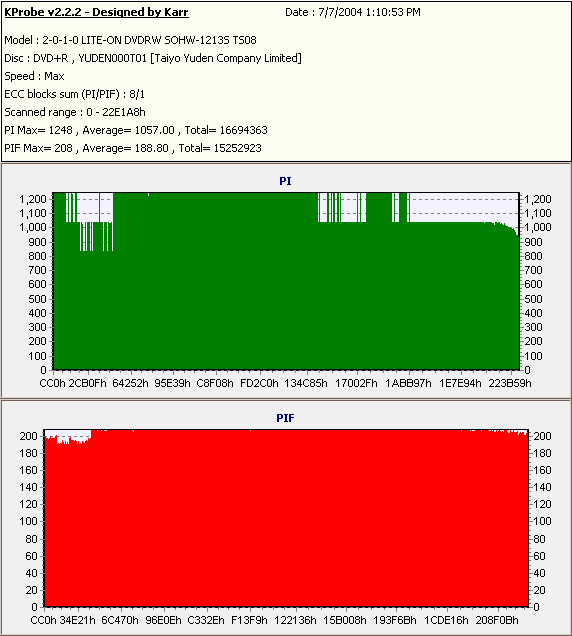 12x burn with stock strat:[/b]

I wanted to confirm this first with the stock strat, because my first thought was that the omnipatcher was somehow missing something when it swapped strats.
As you can clearly see, the 6x and 8x zones with the stock strat really suck at 8x. The burn speed zones are thus: At 8x, you get 6x till about 15%, then 8x. At 12x, it's the same, but 12x starts at about 55%. So, in the 2 scans above, you see that at 12x burn speed, the 6x and 8x zones are being burned with a completely different strat. (and an excellent one I might ad).
Moving on now to 2 TY T01 discs burned with the Ricoh R03 strat, which is the best strat I've found for burning TY at 8x. (but not as good as the stock strat when burning at 12x
)
[b]Burned at 8x: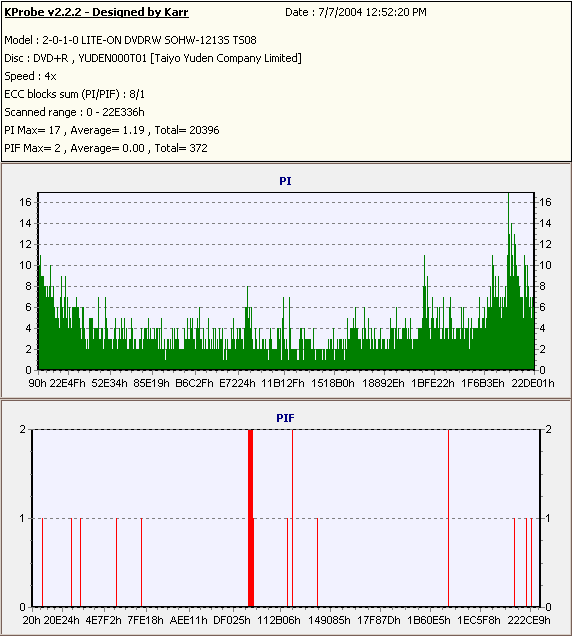 Burned at 12x:[/b]

Here you see that at 8x selected burn speed, both the 6x and 8x zones are burned quite nicely. But when you select 12x burn speed (which is a "stock" speed for R03 media), the 6x zone is burned very differently but the 8x zone remains very good.
This "12x strat effect" appears to be different on different strats. In some cases, both the 6x and 8x zones are affected and in some cases only one or the other is. It occurs on all media supported at 12x in the stock FW, and also with all media using swapped strats, whether the strat supports 12x or not.
At least on the surface, it appears that we are screwed when it comes to strat swapping for 12x burning. :a This drive appears to making it's own decisions about strats when you select 12x speed, and it's also making bad decisions.
Any thoughts on this? Anyone?
I've tried all available 12 burn strats in the 1213 FW, (on the TY +R), and they all suck. They all seem to follow the general pattern of bad 6x, good 8x and bad 12x.